Matt Bottrill and Dame Sarah Storey win National Time Trial series opener
British time trial round-up (March 22-23): News and results from around the UK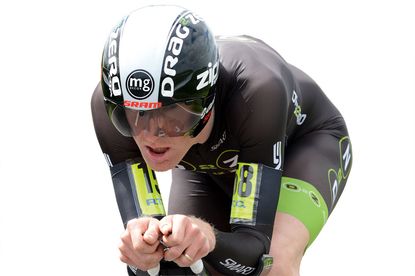 (Image credit: Andy Jones)
Defending champion Matt Bottrill drew first blood in the National Time Trial Series when he took a convincing victory in Essex – despite puncturing five miles from the finish.
The Drag2Zero.com rider covered the 25.6-mile course at Finchingfield in 55-58, winning by more than two minutes from Edmund Bradbury, the in-form Cambridge University CC rider who won several rounds of the East London Velo Winter Circuit Series.
"I reckon I lost about a minute with the puncture," said Bottrill. "I think I rode for about half a mile on it, but then a marshal kindly gave me a replacement wheel and I was on my way.
"I was quite surprised because as soon as I was back on the bike I felt quite fresh – perhaps the stretch did me good."
And victory in the women's race went to Dame Sarah Storey, who was the fastest of five Pearl Izumi-Sports Tours International riders to finish in the top six.
She clocked 1-03-24 to win by almost two minutes from team-mate Hayley Jones, with Nikki Juniper third.
"This was my first road time trial since the Games so I had no idea how well I was doing, so it's great to get a really good power output down," she said afterwards. "But it's also great to see the team doing so well, especially with the National Series starting soon with the Tour of the Reservoir."
In other categories, Steve Berry was quickest of the veterans on actual time, his time of 1-00-40 being almost three minutes better than Stephen Campbell (Twickenham CC). Berry also placed second in the veterans on target time, with victory in that category going to Graham Green (MG Décor).
Elsewhere, Paul Thirling (Stockton Wheelers) won the Teesdale CRC 21 at Staindrop in County Durham on Sunday. His time of 49-18 gave him victory by just ten seconds from Steve Gibson (Peak RC) while Glen Turnbull (Patron) was third, another 25 seconds back.
And in the Sid Latchford memorial hilly 21.5-mile event, promoted by Hemel Hempstead CC at Great Gaddesden in Hertfordshire, victory went to Michael Broadwith whose time of 50-03 was 1-20 faster than runner-up and team-mate at Arctic-Tacx, Danny Axford.
There was yet another one-two for in-form Team Swift in the Bolsover and District CC 10 at Ranby in Nottinghamshire, with Simon Beldon clocking 21-01 and taking the win by 53 seconds from colleague Robby Krygsman.
And Joel Wainman bagged another win for Team Swift on Saturday, this time edging to the win in the Harrogate Nova CC 24 at Ripon, where he clocked 59-36 to win by 15 seconds from Strategic Lions' Nigel Haigh, while Rob Partridge (Velosure Giordana) was third with 1-00-05.
AW Cycles' prolific winner Nick English added another to his tally in the Maidenhead and District CC 14.5-mile time trial near Fifield in Berkshire.
He clocked 33-13 to win by 1-18 from Steve Golla (High Wycombe CC), while Steve Irwin (Kingston Wheelers) was just five seconds back in third.
And another regular winner, Mark Arnold (CC Desireagear) was fastest in the Plomesgate CC 10 at Sudbourne in Suffolk with 21-50, while runner-up James Trenchard (Godric CC) was 43 seconds slower.
In Surrey, Natalie Creswick (Team Mulebar Girl) won the opening round of the South East Women's Time Trial Series, clocking 56-40 around the 21-mile hilly course based at Bletchingley. Detta Guerrini (London Dynamo) came home in second with 59-56, and Bronwen Ewing (Trainsharp RT) rounded out the podium in third with 1-00-21.
Jacques Anquetil's records speak for themselves, but it was his talent for racing against the clock that really set him
British time trial round-up (March 8-9): News and results from around the UK
British time trial round-up (March 1-2): News and results from around the UK
Thank you for reading 10 articles this month* Join now for unlimited access
Enjoy your first month for just £1 / $1 / €1
*Read 5 free articles per month without a subscription
Join now for unlimited access
Try first month for just £1 / $1 / €1
Snowdon Sports is a long-established independent sports news agency, which supplies editorial to a range of media outlets - such as Cycling Weekly - as well as sports governing bodies. Snowdon Sports often covers results at Cycling Time Trials events in the UK and has long been a source of information and imagery to Cycling Weekly.