Rapha Condor JLT retake Tour Series lead despite Madison win in Barrow
Roger Hammond's team take second series victory in as many days, while Graham Briggs took the individal glory.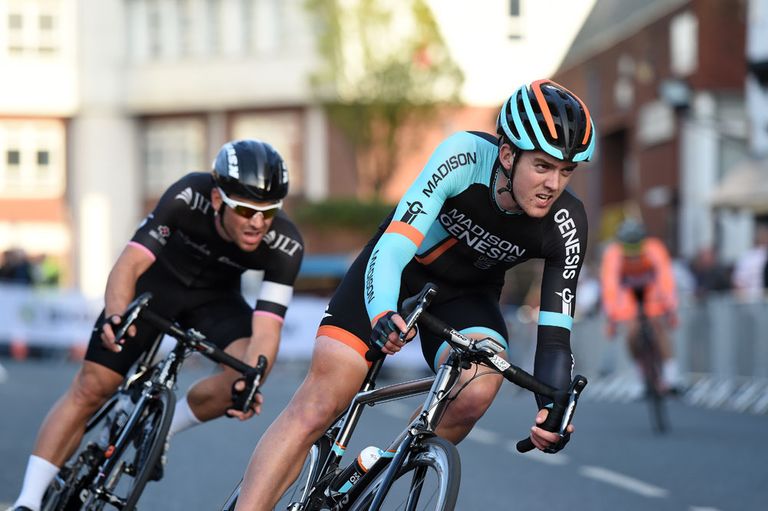 2011 champions Rapha Condor-JLT retook the lead of this year's Tour Series after finishing second behind Madison-Genesis in Barrow last night.
Graham Briggs took the individual win for Rapha, although Roger Hammond's Madison team managed to place riders in second, sixth and seventh to claim their second round victory in as many days.
Briggs escaped with Kiwi Tom Scully halfway through the race, before outsprinting him at the finish.
NFTO led the way after the event's opening two rounds in Stoke-on-Trent on Tuesday, but finished a lowly sixth in the team result on the night and relinquished their red and yellow leaders' jerseys.
Peterborough, returning to the series after a year's absence, hosts round three on Tuesday. A round of the women's Matrix GP Series also takes place in the cathedral city.
Results
Pearl Izumi Tour Series 2014 round two: Barrow
1. Madison-Genesis
2. Rapha Condor-JLT
3. Raleigh
4. Node4-Velosure
5. Great Britain
6. NFTO
7. Starley Primal
8. Metaltek-Kuota
9. Pedal Heaven Colbornes
Individal result
1. Graham Briggs (GBR) Rapha Condor JLT
2. Tom Scully (NZL) Madison-Genesis
3. Matthew Gibson (GBR) Great Britain
4. Richard Hepworth (GBR) Node4-Velosure
5. Adam Blythe (GBR) NFTO
6. Mike Northey (NZL) Madison-Genesis
7. Tobyn Horton (GBR) Madison-Genesis
8. Felix English (IRL) Rapha Condor-JLT
9. Yanto Barker (GBR) Raleigh
10. Andy Tennant (GBR) Madison-Genesis
Round Two Costa Express Fastest Lap: Graham Briggs, Rapha Condor-JLT, 1-22.924
Round Two Sprint Winner: Tom Scully, Madison-Genesis
Overall team standings after round three
1. Rapha Condor-JLT 30pts
2. Madison-Genesis 29pts
3. NFTO 21pts
4. Raleigh 21pts
5. Node4-Velosure 19pts
6. Great Britain 18pts
7. Metaltek-Kuota 13pts
8. Starley Primal 10pts
9. Pedal Heaven Colbornes 6pts
Overall Sprint Standings, post-Round Two
1. Jon Mould, NFTO, 18pts
Nick Bull is an NCTJ qualified journalist who has written for a range of titles, as well as being a freelance writer at Beat Media Group, which provides reports for the PA Media wire which is circulated to the likes of the BBC and Eurosport. His work at Cycling Weekly predominantly dealt with professional cycling, and he now holds a role as PR & Digital Manager at SweetSpot Group, which organises the Tour of Britain.