British road race season picks up momentum with eventful Clayton Velo Spring Classic
David Allonby used his strength against the clock to lead the action at the 2017 Clayton Velo Spring Classic, but was ultimately caught as Jacob Hennessy took the win - Photo by Andy Jones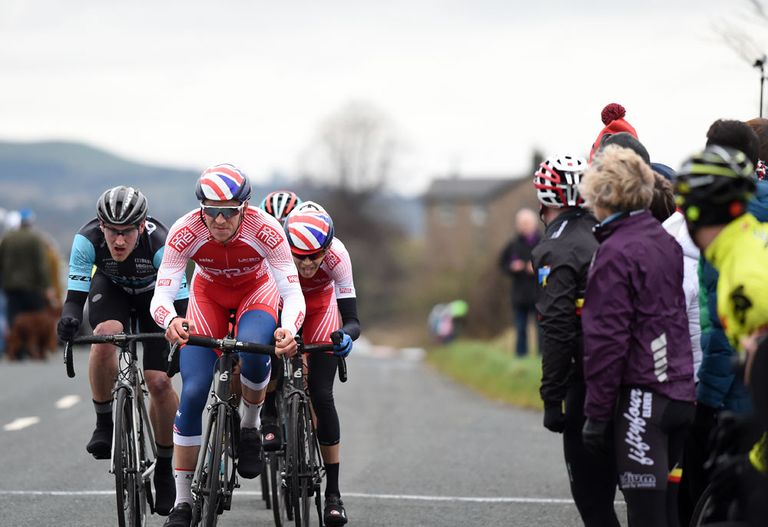 (Image credit: Andy Jones)
A strong solo ride by David Allonby (Big Northern Setup) very nearly provided an upset in the British early-season Clayton Velo Spring Classic on Sunday.
Allonby put in a long solo move through the latter stages of the handicap event in Clitheroe, Lancashire, providing a headache for the riders behind him.
Seasoned time triallist and second-category rider Allonby forced a concerted chase, as a strong group of riders behind him attempted to make the catch.
>>> Rory Townsend targeting back-to-back wins in domestic curtain-raiser Perfs Pedal
In the end, Allonby's valiant effort was foiled, and Jacob Hennessy (100% ME) took the win from a reduced bunch sprint ahead of Dillon Byrne (VCUK VeloChampion) in second and Michael Cuming (Neon-Velo) in third.
Allonby came home in 14th spot, only nine seconds down on Hennessy despite the day's efforts.
Annasley Park (Team Breeze) took the victory in the women's event.
Watch: Tubulars or clinchers, which are faster?
Result
Clayton Velo Spring Classic 2017
1. Jacob Hennessey (100% ME)
2. Dillon Byrne (VCUK VeloChampion)
3. Mike Cuming (Neon Velo Cycling Team)
4. Alex Luhrs (Brother NRG DriverPlan)
5. Richard Handley (Madison Genesis)
6. Fraser Martin (Raleigh GAC)
7. David Bolland (Neon Velo Cycling Team)
8 .Richard Haughton (Brother NRG Driverplan)
9. Angus Claxton (100% ME), at same time
10. Simon Deplitch (Team Chronomaster), at 6 secs