Daniel Bigham and Hayley Simmonds claim National 25-mile Time Trial titles
South Wales hosted the 2017 National 25 Championships, with Hayley Simmonds taking her third title and Daniel Bigham continuing his stellar 2017 season - Photos by Andy Jones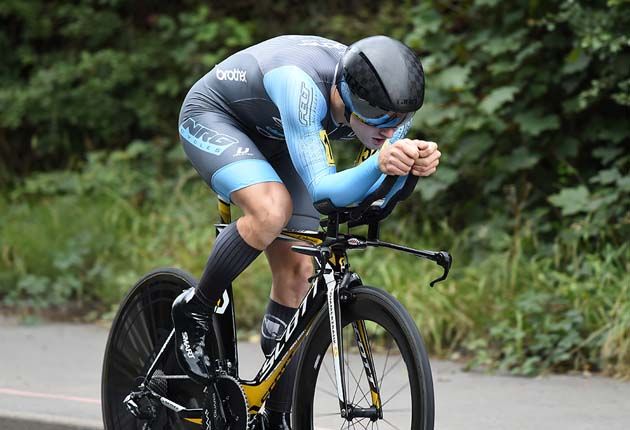 (Image credit: Andy Jones)
Daniel Bigham and Hayley Simmonds won the senior titles in the 2017 National 25-Mile Time Trial Championships, held in the Vale of Neath, South Wales, over the weekend (August 5-6).
Windy conditions on the out-and-back course made it tricky for riders to gauge their effort, but Simmonds (WNT Pro Cycling) made no mistakes to clinch her third title in the event on Saturday.
Simmonds posted a time of 50-10 to beat second-placed Rachael Elliott (Drag2Zero) by one minute and 33 seconds on the R25/3h course. Anna Turvey (Tyneside Vagabonds CC) completed the podium in third, two seconds further adrift of Simmonds.
>>> Cycling time trials: how to get into time trialling
Sunday's men's championship saw Bigham (Brother NRG Wattshop) continue his streak of 2017 victories, claiming the 25 title with 45-40, an average speed of 32.847mph. That effort saw him place 19 seconds ahead of second-placed Tim Cartwright (Newbury RC).
Ryan Perry (Team Raleigh GAC) clocked 46-11 to finish in third spot. The team award went to Bottrill-HSS Hire, whose Matthew Smith, Stuart Travis and John Dewey finished in sixth, seventh and ninth respectively.
Cavan Walker (Prologue Race Team) and Pfeiffer Georgi (Liv CC-Epic Coaching) claimed the respective junior men's and women's 25 titles.
Results
National 25-Mile Time Trial Championships 2017
Women
1. Hayley Simmonds (WNT Pro Cycling) 50-10
2. Rachael Elliott (Drag2Zero) 51-43
3. Anna Turvey (Tyneside Vagabond CC) 51-45
4. Kate Allan (Drag2Zero) 51-50
5. Eileen Burns (Ballymena Road Club) 52-29
6. Alice Lethbridge (Drag2Zero) 52-40
7. Katie Greves (AS Test Team) 53-10
8. Molly Patch (Fusion RT Fierlan) 53-35
9. Victoria Smith (AeroCoach) 54-00
10. Kimberley Morrison (North Norfolk Wheelers) 45-25
Men
1. Daniel Bigham (Brother NRG Wattshop) 45-50
2. Tim Cartwright (Newbury RC) 45-59
3. Ryan Perry (Team Raleigh GAC) 46-11
4. John Archibald (Pro Vision Cycle Clothing) 46-23
5. Kieron Davies (Drag2Zero) 46-38
6. Matthew Smith (Bottrill-HSS Hire) 46-48
7. Stuart Travis (Bottrill-HSS Hire) 47-09
8. James Boyman (Hoops Velo) 47-20
9. Jon Dewey (Bottrill-HSS Hire) 47-22
10. Chris Bartley (AS Test Team) 47-29
Junior men
1. Cavan Walker (Prologue Race Team) 48-52
2. Harrison Wood (Mid Devon CC) 49-18
2. Lyster Romero (TBW Bottechia Wigmore RT) 49-42
Junior women
1. Pfeiffer Georgi (Liv CC-Epic Coaching) 54-51
2. Caitlin Peters (i-Team CC) 59-21
3. Savannah Hewson (Liv AWOL) 1-02-08