David Millar calls for investigations to determine cause of motorbike incidents
The former pro had already spoken out about rider safety, something he talked about again following the tragic death of Antoine Demoitié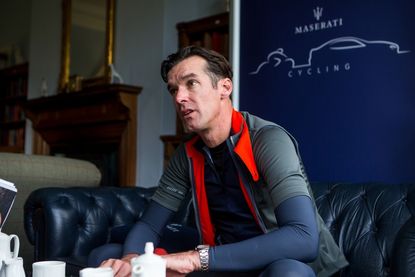 (Image credit: Alex Whitehead/SWpix.com)
Former Garmin-Sharp rider David Millar believes the UCI need to work hard to crack down on motorbike incidents following the death of Antoine Demoitié after an collision at Ghent-Wevelgem on Sunday, but says it's hard to pinpoint why so many of these accidents are occuring.
Demoitié was involved in a crash with other riders and a race motorbike on Easter Sunday and later died in hospital in Lille, France.
In the wake of the 25-year-old's death, Millar says that investigations need to be conducted after each one in order to conclude why so many incidents of this nature are occuring.
"I think everybody's already said 'well it's a problem', the thing is until there's an investigation into each one of these incidents and we have conclusions from each one it's very difficult to know what needs to be changed," he told Cycling Weekly on Tuesday.
"They're all happening in different situations, different points in races, and different countries and I'm sure if it was any other walk of life, [there would be] an investigation afterwards to work out what happened, and yet each of these incidents we've had we've never had any conclusion or wrap-up of what happened."
Millar has taken part in several UCI working groups, one of which looked at rider safety. Jean Francois Pescheux, the ex-race director of the Tour de France, was present on the panel and told Millar the regulation of vehicles is something they looked at in his time on the world's biggest race.
The most recent occurrence of a rider and race vehicle coming into contact has been the most tragic. Demoitié died in hospital in Lille following a crash after 150km in Ghent-Wevelgem. Witnesses to this incident have said that the motorbike rider was not to blame and that it was a tragic accident, and Demoitié's team have not laid any responsibility on the motorcyclist.
Dutch NOS journalist Sebastiaan Timmerman said, "this was just a very unfortunate accident. Antoine Demoitié crashed with several other riders. An official motorcycle that rode behind them tried to avoid the group of riders, but it went wrong. He crashed and the engine landed on Antoine Demoitié."
More on this story
Eyewitness describes Antoine Demoitié crash: 'I suspected that it wasn't an ordinary accident'

Marcel Kittel calls for better race safety after Antoine Demoitié death

Antoine Demoitié's team shell-shocked but defiant on cycling's day of tragedy

Due to the seriousness of the Sunday's crash, French police (the crash happened on a small part of the parcours that passes through France) are conducting a full investigation. But in terms of monitoring rider safety and reducing such incidents in future, Millar is quite clear on who needs to take the lead.
"That's the UCI's responsibility, and so I'd be interested to know if they've already done that, if they already have a dossier on each one of these incidents and what the conclusions have been," he told CW.
"We can't have solutions until we know what the problems are, and I don't know if we know what the problems are yet. Everyone just goes up in arms, too many motorbikes, or the roads are too narrow, they've not got the right licences, or they haven't been trained properly.
"But the truth is, the honest truth is no one actually knows what's going on.
"Each time these happen we get some uproar in the press and on social media and then I'm interested to what actually happens."
After a suggestion that each collision makes headlines but is soon forgotten about until the next similar thing happens, Millar summed up where this trend of uproar with no action has led us, "until somebody tragically dies" he said.
In a previous discussion, a few weeks prior to the Demoitié accident, Millar was speaking at an event to promote the Maserati Tour de Yorkshire sportive and when interviewed by CW he touched on the number of motorbike incidents we've seen.
"It's unprecedented the amount that have happened in the last year and a half. I mean you'd hardly ever see it before, if ever. So it's quite hard to figure out why that is," he said.
"The UCI essentially need to investigate each one of those crashes now, they should go back and say ok, so who was driving that bike, what's their history, how many races they've done, and do that for each of those and actually just do an investigation into it, and see if there is a kind of a track record.
"For all we know, [it] might've been their first race for each one of those guys. In which case, they shouldn't be allowed to pass the peloton on their first race or something like that.
"No rider should ever be hit by a motorbike."
Thank you for reading 10 articles this month* Join now for unlimited access
Enjoy your first month for just £1 / $1 / €1
*Read 5 free articles per month without a subscription
Join now for unlimited access
Try first month for just £1 / $1 / €1
Jack Elton-Walters hails from the Isle of Wight, and would be quick to tell anyone that it's his favourite place to ride. He has covered a varied range of topics for Cycling Weekly, producing articles focusing on tech, professional racing and cycling culture. He moved on to work for Cyclist Magazine in 2017 where he stayed for four years until going freelance. He now returns to Cycling Weekly from time-to-time to cover racing, review cycling gear and write longer features for print and online. He is not responsible for misspelled titles on box outs, and he lost the argument about using UK spellings