Dowsett and Houvenaghel take national time trial titles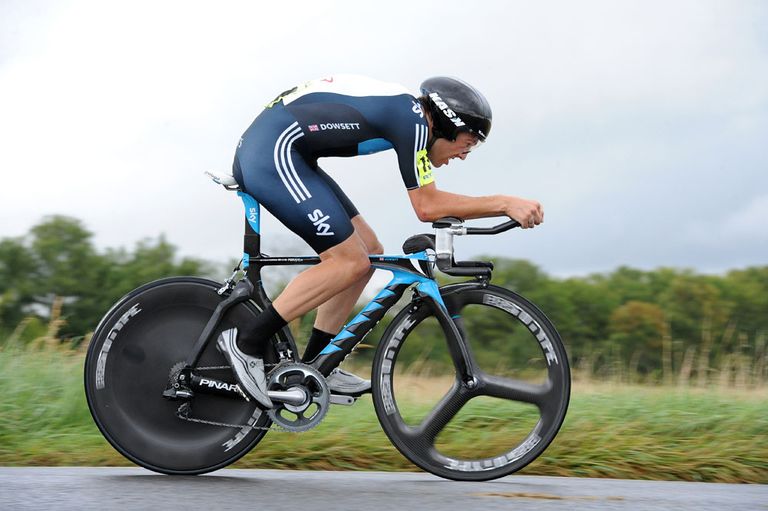 British Time Trial championships 2011 photo gallery by Andy Jones>>
Alex Dowsett took his first senior national time trial championship in Cambridgeshire on Sunday afternoon, beating Team Sky teammate Steve Cummings by 19 seconds.
Dowsett scorched round the first lap of the circuit to establish an advantage, but a late bike change due to a slipped arm rest made for a tight margin.
Matt Bottrill (I-ride.co.uk) took the bronze medal - domestic rival Michael Hutchinson went six seconds faster, but his Irish UCI code makes him ineligible for the official results.
The same goes for Ryan Mullen (Planet X), who was the quickest junior.
In the women's event, Wendy Houvenaghel (Bike Chain Ricci) gave Julia Shaw a rare taste of defeat, taking her third BTTC title. Sarah Storey finished third.
Doug Dewey (GWR Team) and Ella Sadler-Andrews (Horizon Fitness RT) were U23 champions, while there were junior titles for Oliver Rossi (PCA Ciclos Uno) and Hannah Barnes (Motorpoint).
Results

BTTC Time-Trial Championships, Sawtry, Cambridgeshire, 29 miles

Elite men

1. Alex Dowsett (Team Sky) 58-26

2. Steve Cummings (Team Sky) at 19secs
3. Matt Bottrill (I-ride.co.uk) at 1-48
4. Russell Hampton (Sigma Sport-Specialized) at 3-12
5. Joe Perrett (Twenty3C-Orbea) at 3-18
6. Matt Clinton (MikeVaughan.co.uk) at 4-07
7. Blake Pond (Southfork Racing) at 4-43
8. Colin Parry (Wilier-Goselfdrive.com) at 5-36
9. Seth Kay (DataTeamAllstars) at 5-57
10. Tejvan Pettinger (Sri Chinmoy RT) at 6-22
Ineligible Michael Hutchinson (In Gear Quickvit Trainsharp RT) at 1-42


Elite women, 20 miles

1. Wendy Houvenaghel (Bike Chain Ricci) 45-38
2. Julia Shaw (www. drag2zero.com) at 56secs
3. Sarah Storey (Horizon Fitness RT) at 1-23
4. Rebecca Romero (XRT-Elmy Cycles) at 3-02
5. Emma Trott (Nederland Bloeit) at 3-49
6. Claire Newland (Welwyn Wheelers) at 4-37
7. Ella Sadler-Andrews (Horizon Fitness RT) at 4-38
8. Paula Moseley (Climb on Bikes RT) at 5-35
9. Lynn Hamel (Herbalife-Wheelbase) at 6-08
10. Nicola Juniper (Inverse-Cyclaim) at 6-09


U23 men

1. Douglas Dewey (GWR Team) 43-37
2. George Atkins (Velo Ecosse-Montpelliers) at 1-05
3. Andrew Griffiths (Twenty 3C-Orbea) at 1-32
4. Llewellyn Kinch (GWR Team) at 1-58
5. Mike Rudling (Wightlink-Offshore RT) at 2-07
Junior men

1. Oliver Rossi (PCA Ciclos Uno) 44-57

2. Declan Byrne (Brooks Cycles) at 56secs
3. Michael Barnes (Colour-Tech RT) at 1-15
4. Daniel Young (Glendene CC) at 1-19
4. Germain Burton (Team De Ver) at 1-19
Ineligible Ryan Mullen (Planet X) 44-17


Junior women

1. Hannah Barnes (Motorpoint) 49-33
2. Melissa Bury (Maxgear RT) at 8-15
Masters

75+ category (J): Keith Gelder (A5 Rangers CC) 1-02-54
70-74 (I): Richard Glover (CC Ashwell) 52-40
65-69 (H): Reg Smith (DataTeamAllstars) 48-10
60-64 (G): David Jones (Zemblanity RT) 51-27
55-59 (F): Phil Bull (VC Elan) 48-18
50-54 (E): Kevin Tye (DataTeamAllstars) 45-06
45-49 (D): Peter Georgi (Giant CC) 46-28
40-45 (C): Gabriel Martinez (VC Meudon) 45-22
35-39 (B): Peter Weir (Maidenhead & District CC) 46-09
30-34 (A): James Gilfillan (Team Feat) 45-03
Wendy Houvenaghel
Alex Dowsett
Men's winner Alex Dowsett (centre) with second-placed Steve Cummings (left) and third-placed Matt Bottrill (right)
British TT champ Wendy Houvenaghel (centre) flanked by second-placed Julia Shaw (Left) and third-placed Sarah Storey (right)
Related links
British Time Trial championships 2011 photo gallery by Andy Jones