'It was getting to the point I didn't know if I'd be able to return to racing'
British track sprinter Victoria Williamson relieved to be making full time return to the track after fracturing her neck and vertebrae and dislocating her pelvis in a crash in January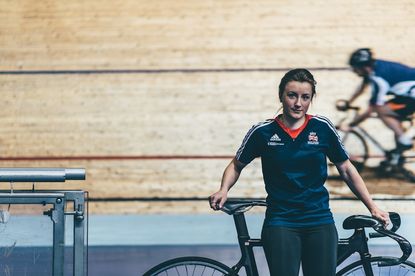 (Image credit: Russ Ellis)
Get The Leadout Newsletter
The latest race content, interviews, features, reviews and expert buying guides, direct to your inbox!
Thank you for signing up to The Pick. You will receive a verification email shortly.
There was a problem. Please refresh the page and try again.
Track sprinter Victoria Williamson admitted it was a "relief" to be able to return to full time training in January, almost a year after a serious crash that left her with a broken neck and vertebrae and dislocated pelvis.
The 23-year-old crashed while racing at the Rotterdam Six Day in January this year and later said she was lucky not to have been left paralysed. She had an operation to stabilise her pelvis with screws and had a large wound across her back that took months to heal, and has spent most of her recovery in physiotherapy the last few months.
"It's definitely a relief that I'm going to be able to train again. It was sort of getting to the point where if I leave it much longer I don't really know if I'm ever going to be able to get back," Williamson told Cycling Weekly.
"A year is still doable [to come back from]. The surgeon said at the minute their might be barriers when I come to train but he can't see a reason why I can't get back to where I was.
"I could have had maybe a year and a half, even two years off, and that would have been really, really hard to get back from."
Though Williamson admits she's "lucky" she's recovered to the point "where nothing inhibits normal life", she has to start almost from scratch again on the bike when she returns to the British Cycling set up. The only cycling she's been able to do is 30-minute sessions on the Wattbike a few times a week.
"The initial thing is gaining strength again," she continued. "I'll probably do road bike sessions on the treadmill, I can't really go on the road yet because of the bumps and surfaces, they need to keep me on the smooth surface."
She also anticipates having to make adjustments to her bike set up when she starts riding on the track again full time.
"My pelvis is 3cm out of where it was, not necessarily where it should be but I think it's tilted, and isn't perfectly straight, because the dislocation and the tear was so bad it was never going to be exactly where it was," she continued.
"It might be a case of having to tilt my saddle maybe to get my pelvis level or having a rubber section or something under my cleat to make one leg a bit higher."
While there are currently no plans for Williamson to return to racing yet, she has the 2018 Commonwealth Games and Tokyo 2020 Olympics as long-term goals.
"I went to the Commie Games in Glasgow, but unfortunately a few weeks before that I was ill in hospital so I couldn't race to my best," she said. "This time I would like to try and be at my best but we don't really know how long it's going to take me to get fit. It could take six months, it could take two years."
Thank you for reading 20 articles this month* Join now for unlimited access
Enjoy your first month for just £1 / $1 / €1
*Read 5 free articles per month without a subscription
Join now for unlimited access
Try first month for just £1 / $1 / €1
Get The Leadout Newsletter
The latest race content, interviews, features, reviews and expert buying guides, direct to your inbox!