Ferrari should be ashamed of Giro sprint, says Cavendish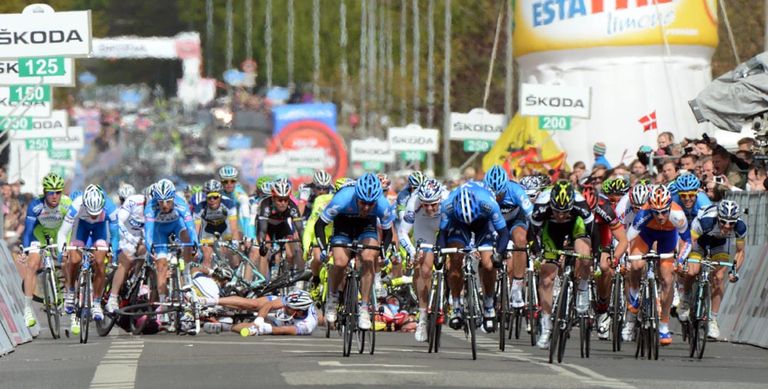 "Ouch! Crashing at 75kph isn't nice!" Cavendish said on Twitter. "Nor is seeing Roberto Ferrari's manoeuvre. Should be ashamed to take out Pink, Red & World Champ jerseys."
Giro d'Italia 2012: Stage reports
Stage three: Goss wins in Horsens as Cavendish and Phinney crash
Stage two: Cavendish wins in Herning
Stage one: Phinney wins time trial
Phinney and the rest of the peloton are travelling by aeroplane to Verona for the start of the Italian stages. He and Cavendish will be able to recover on the rest day, but both will suffer in the team time trial on Wednesday. Phinney added, "I think I'll be able to start."
Goss won the first Grand Tour stage for Australia's new top division team, Orica-GreenEdge. However, he wasn't pleased with Ferrari's actions.
"Some guys don't have much regard for the safety," Goss said. "It's win at all costs at some points."
Phinney leaves after the podium presentation to head to Italy
Giro d'Italia 2012: Teams and riders
Giro d'Italia 2012 start list
Giro d'Italia 2012: TV guide
Giro d'Italia 2012: British Eurosport TV schedule
Related links
Giro d'Italia 2012: The Big Preview
Cycling Weekly's Giro d'Italia section
Team Sky's sprint leader hit the road hard on his left side in the final 200 metres, but then got up and walked over the finish line carrying his bike. Afterwards he re-mounted and rode toward the team bus, stopping first to congratulate his former team-mate Matt Goss (Orica-GreenEdge) on the stage win.
"I knew he'd lost my wheel with two K to go in that last right-hander. I wasn't sure if he let me go or what, so I wasn't too sure whether to go back and wait for him. I thought I'd just get around the corner in good position. I looked back and he was in decent position, behind Mark Renshaw about five or six positions back. He wasn't too far off at all, I thought he was in a decent position."
"I have no idea what happened in the crash. I just ran over somebody," explained Phinney. "I am happy that nothing is broken."
A substitute accepts Taylor Phinney's maglia rosa after the leader's crash
Phinney's bandaged right ankle
The Giro d'Italia was turned upside down today in Horsens, Denmark, due to Robert Ferrari's sprint. The Italian of team Androni darted right, hit Mark Cavendish's front wheel and caused a crash that also took out race leader, Taylor Phinney (BMC Racing).
Giro d'Italia 2012: Latest news
Giro remembers Wouter Weylandt
Cavendish and Thomas a winning combo, says Brailsford
Geraint Thomas narrowly misses out on Giro lead
Phinney realises Giro dream
Thomas and Phinney talk Giro d'Italia time trial
Kennaugh enters Giro with least amount of racing miles
Cavendish faces first Grand Tour as World Champ and father
Frank Schleck's last minute Giro adventure
Swift out of Giro after training crash
Giro d'Italia 2012: Who will win?
Sky to battle for Giro's team time trial
Hesjedal aims for Giro win
Giro d'Italia 2012: Start list
Cavendish, Thomas, Kennaugh, Swift and Stannard for Giro
Giro d'Italia 2012: Jerseys unveiled
Giro d'Italia organiser announces wildcard teams for 2012
Giro d'Italia 2012 route revealed
Thomas led Cavendish into the sprint, but lost him in the final kilometres. He kept looking back over his shoulder to see where he was and to make sure he'd be in position to repeat yesterday's win in Herning.
Pink jersey, American Taylor Phinney went down in a subsequent crash. He nursed his right ankle and had to cross the line in an ambulance. The jury awarded he could keep the jersey, in an action similar to the one that allowed Daryl Impey to keep his after the Tour of Turkey crash in 2009.
Giro d'Italia 2012: Live coverage
Giro d'Italia 2012 live text coverage schedule
The award ceremony went on, a young boy took the jersey in Phinney's place. Phinney then returned in the ambulance and accepted the jersey, right ankle wrapped and race numbers dangling over his backside.
Phinney later arrives via ambulance to collect the maglia rosa in person
"He was a bit pissed off, a bit gutted," Geraint Thomas told Cycling Weekly.
Cavendish was a little far back, but jumped to follow Tyler Farrar (Garmin-Barracuda). They surged up the right side, when Ferrari shot right and tried to pass behind Farrar. He took out Cavendish, Arnaud Démare (FDJ-BigMat) swerved and avoided Cavendish's head and Elia Favilli (Farnese Vini) bunny-hopped his body.
Ferrari continued to finished ninth, but the jury disqualified him to last place in bunch at 192nd. "Ferrari goes on instinct," Gianni Savio, Androni team manager said. "He didn't know what he did behind him."
Related links
Goss wins in Horsens as Cavendish and Phinney crash
Giro d'Italia 2012: Photo galleries
Stage three photo gallery
Stage two photo gallery
Stage one photo gallery