Giro madness: Zoncolan stage modified in final hours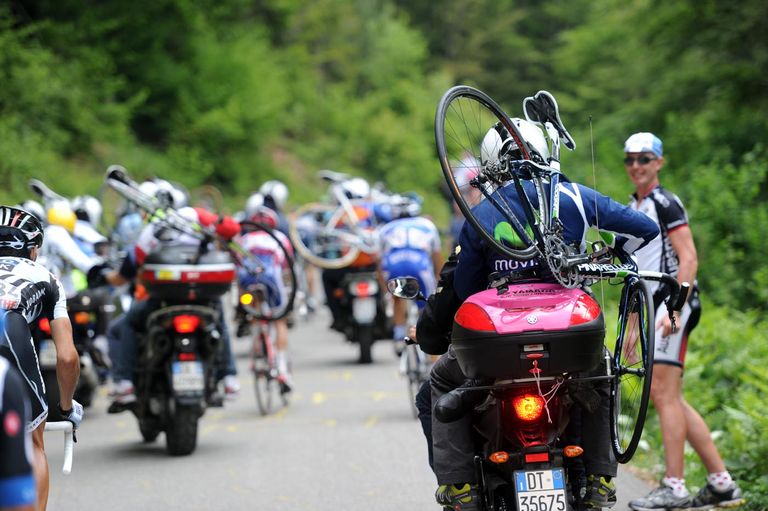 The Giro d'Italia may have reached a low point today at the top of the Monte Zoncolan, 1730 metres in the Dolomites of northeast Italy. Spaniards dominated the 14th leg - Igor Anton won and Alberto Contador extended his lead - but race organisation over-shadowed the day.
Organiser RCS Sport cut Monte Crostis, the penultimate climb over night and had to shorten the race by 20 kilometres due to fans' protests.
"I get the the message at 9:30 last night to tell me the stage has been cancelled, 9:30!" stage organiser, Enzo Cainero told a group of journalists. "I had the road ready and a back up plan, we've been working on it since October. How do you call me at half past nine to say we are not racing?"
Cainero reportedly is upset with the pressure of the team managers, specifically Bjarne Riis and his Saxo Bank star, Contador. Riis pushed fiercely for the new climb to be cut in a meeting with race director Mauro Vegni on Wednesday.
"The true reason was not safety," added Cainero, "you know that."
The Crostis climbs to 1982 metres, but its descent to Zoncolan worried teams. It features six kilometres on gravel roads at the top followed by narrow roads and sharp corners with vertical drops on the side.
"I don't know the climb, so it's hard for me to say exactly," Riis told Cycling Weekly. "In the end of the day, we have to think about the security of the race, how it will unfold, accidents or bad luck."
Some fans were unaware and had already climbed Crostis in preparation to cheer the Giro. Once informed, some of them blocked the road to the substitute Tualis climb. Their action forced the race director to skip the climb, cutting out nearly 20 kilometres, and head directly to the final 10.1-kilometre Zoncolan climb.
"I'd imagine," added Riis, "the reason was big enough to do that."
Due to the organiser's changes, or the possibility of a doping suspension, fans booed Contador at the finish.
"I hope they are not upset with us and they understand we are human beings. We could have done another climb, but I don't want that something happens to one of us," HTC-Highroad's Marco Pinotti told Cycling Weekly.
"I don't know how bad Crostis was going to be, but with bad weather they should have a plan B. We should be able to race any course regardless of the weather. Bad weather can arrive at any time in the mountains. It was sunny this morning and now it's raining.
"We are human beings, that's it."
Christophe Le Mevel of team Garmin-Cervelo and the other top favourites had to re-adjust their plans for the Zoncolan. With the Tualis cut, they had less time ahead of Zoncolan and less time to catch the three-man escape.
"It's crazy because I didn't know the number of kilometres. I asked, 'When is the Zoncolan?' And it was starting immediately!" Le Mevel told Cycling Weekly. "It's a very strange race, it's the Giro. But it's no problem, this is just the Italian mentality."
Giro d'Italia 2011: Latest news
Controversial Crostis climb removed from Giro route
Sky leader Lofkvist loses more time at the Giro
Giro contenders struggle with Contador's dominance
Contador widens Giro advantage but Tour doping case waits
Porte reflects, one year after Giro success
Le Mevel goes on attack for Giro's pink jersey
Giro fines Contador for missing press conference
Cavendish responds to 'team car' accusations at Giro
Giro d'Italia News Shorts (May 15)
Giro's Sicilian cyclists proud to face Mount Etna
Contador surprises at Giro with attack ahead of mountains
Contador minds food at Giro as CAS decision nears
Weening supported by Rabobank and model Kroes
Local lad Appollonio bears fruit in Fiuggi
Giro d'Italia News Shorts (May 12 edition)
Blythe finding way in second Grand Tour
Leopard-Trek withdraws from Giro d'Italia
Leopard-Trek uncertain to continue in Giro
Tuesday's Giro stage in memory of Weylandt
Giro doctor describes actions to save Weylandt
Wouter Weylandt killed in Giro crash
Giro news shorts (May 8)
Cavendish likely to take Giro lead tomorrow
Giro 2011: Who will win?
Giro d'Italia 2011: Stage reports
Stage 14: Anton conquers Zoncolan in shortened stage
Stage 13: Contador consolidates Giro overall as Rujano takes stage
Stage 12: Cavendish holds off Appollonio to take second victory
Stage 11: Gadret grabs dramatic stage win
Stage 10: Cavendish opens his Giro account
Stage nine: Contador storms Etna to take Giro lead
Stage eight: Gatto springs late attack to take win
Stage seven: Neo-pro De Clercq wins by a whisker
Stage six: Ventoso steals Giro stage six win
Stage five: Weening holds on to take stage and maglia rosa
Stage four: Tearful Farrar and Leopard-Trek lead riders across stage four finish line
Stage three: Vicioso victory overshadowed by Weylandt crash
Stage two: Petacchi wins as Cavendish takes lead
Stage one: HTC-Highroad wins Giro's opening team time trial
Giro d'Italia 2011: Photo galleries
Stage 14 photo gallery by Graham Watson
Stage 13 photo gallery by Graham Watson
Stage 12 photo gallery by Graham Watson
Stage 11 photo gallery by Graham Watson
Stage 10 photo gallery by Graham Watson
Stage nine photo gallery by Graham Watson
Stage eight photo gallery by Graham Watson
Stage seven photo gallery by Graham Watson
Stage six photo gallery by Graham Watson
Stage five photo gallery by Graham Watson
Stage four photo gallery by Graham Watson
Stage three photo gallery by Graham Watson
Stage two photo gallery by Graham Watson
Stage one photo gallery by Graham Watson
Giro d'Italia 2011: Live text coverage
Giro d'Italia stage 11 live text updates
Giro d'Italia 2011 stage seven live text updates
Giro d'Italia 2011 stage five live text updates
Follow the 2011 Giro d'Italia live with Cycling Weekly
Giro d'Italia 2011: Start list
Giro d'Italia 2011: Start list
Giro d'Italia 2011: TV schedule
Giro d'Italia 2011: British Eurosport TV schedule
Related links
Giro d'Italia 2010: Cycling Weekly's coverage index