Michael Rogers celebrates Giro win after 'difficult period'
Michael Rogers takes first victory after being cleared of clenbuterol positive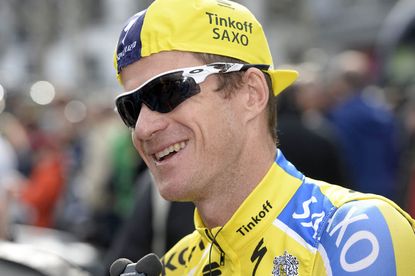 (Image credit: Watson)
In Savona, where Eddy Merckx left the Giro d'Italia due to an anti-doping positive, Michael Rogers won his first race after a clenbuterol doping case this winter.
Rogers attacked on the Naso di Gatto climb north of the seaside town as the group caught the early escape at 18 kilometres out. He rode free down the final and technical descent into town with 29 seconds at 17 kilometres, 35 seconds at five and enough time in the last metres to kiss his wedding ring in celebration.
The win closed a circle that began with his win and anti-doping test at the Japan Cup on October 20, last year. The testers found clenbuterol, which helps weight loss, in Rogers' system. The same substance brought Alberto Contador a ban and stripped him of his 2010 Tour de France win.
Rogers, however, raced the Tour of Beijing in China five days earlier. In China and Mexico, the World Anti-Doping Agency (WADA) has warned that farmers use the drug in their cattle. Rogers argued that he did not dope but that he ate bad beef during the race.
Cycling's governing body, the UCI saw it his way. On Wednesday, April 23, it cleared him and Belgian Jonathan Breyne, who had also tested positive for clenbuterol in the same period. The following Sunday, he returned to racing in Tinkoff-Saxo's yellow colours at Liège-Bastogne-Liège.
"It's been a difficult period, but there's always light at the end of the tunnel," Rogers said. "There are always these difficult moments in life, but you've got to look ahead."
Rogers won a 249-kilometre stage from Collecchio. It would have been the longest stage, but that changed when the organiser had to add 10 kilometres to the 247-kilometre Montecassino stage on Thursday. With Nicolas Roche and Ivan Rovny, Rogers had two team-mates in the early escape group. Once team Androni pulled back the group, Rogers countered.
"It was very long and demanding from the start," Rogers said. "I saw that there was a big chance to do something on the climb, all the others were watching each other. My team-mate, Rafal Majka (third overall) was well-placed, so I tried."
WADA-accredited laboratory in Tokyo finds '"adverse analytical finding" in Australian's urine sample
Thank you for reading 5 articles this month* Join now for unlimited access
Enjoy your first month for just £1 / $1 / €1
*Read 5 free articles per month without a subscription
Join now for unlimited access
Try first month for just £1 / $1 / €1