Monte Zoncolan: one of cycling's toughest tests
Giro d'Italia tackles the Monte Zoncolan climb at the end of today's penultimate and decisive stage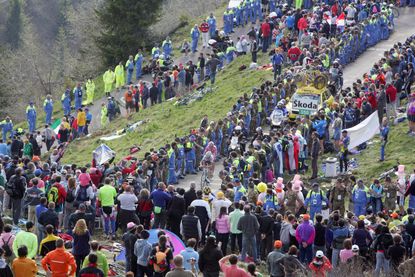 The Giro d'Italia races up one of cycling's toughest climbs today: Monte Zoncolan. It should provide the prefect cliff-hanger with the race running over flat roads tomorrow for its final stage into Trieste.
"I like the climb a lot. It's demanding, it's the type of mountain I like," race leader Nairo Quintana said. "If I feel good, why not try to win the stage?"
The Giro only raced up the climb in Italy's northeast four times before. Gilberto Simoni won in 2003 and 2007 – the first time climbing up from the easier Sutrio side – Ivan Basso in 2010 and Igor Antón in 2011.
Benito Mussolini in 1939 decided to build 19 roads to be able to take troops to the important borders. Workers finished the road from Ovaro to Zoncolan in 1940.
In recent years, Monte Zoncolan has become synonymous with cycling like Mortirolo, Angliru and Alpe d'Huez. In terms of average gradients, it is harder. It averages 11.9 per cent over 10.1km and touches 22 per cent.
For comparison, L'Angliru in Spain climbs 12.2 kilometres and averages 10.2 per cent. The Mortirolo averages 10.5 per cent over 12.4km, the Colle dell Finestre 9.1 per cent over 18.6km and the Passo Gavia 7.9 per cent over 17.3km.
"My only rival was myself. I was concentrated so much, calculating the efforts over the gradients," Antón said in 2011. "It's a climb that never ends, it was perhaps the hardest climb I've ever ridden."
Antón now races for Quintana. Team Movistar's captain, who leads Rigoberto Urán by 3-07 minutes, visited the climb for the first time this spring.
"I couldn't see it all because when I came months ago it was covered in snow, so I only saw the first bit," Quintana said. "I'll see how the team is tomorrow, but if I have my chance, I'll try to win it."
The climb rises from 530 metres at Ovaro to 1730 metres at the top. Locals embrace the climb and the Giro, which put it on the map. This spring, local organisers built a wooden arch to mark the start of Monte Zoncolan.
Monte Zoncolan in the 2007 Giro d'Italia
Colombian Giro d'Italia leader Nairo Quintana says he's "showing the fans what they want to see"
Thank you for reading 5 articles this month* Join now for unlimited access
Enjoy your first month for just £1 / $1 / €1
*Read 5 free articles per month without a subscription
Join now for unlimited access
Try first month for just £1 / $1 / €1