Still an 'opportunity' for Uran to win Giro d'Italia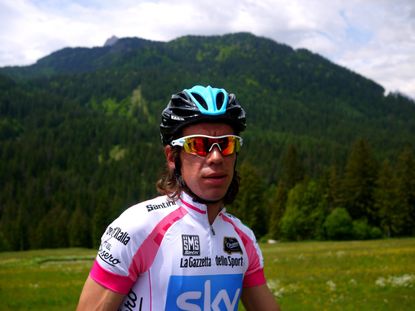 Sky's Rigoberto Uran is enjoying his best Grand Tour yet in the Giro d'Italia. The Colombian sits fifth overall, comfortably in the white jersey of best young rider, with only two big mountain days remaining.
"Can I win it? It's an open Giro," Uran told Cycling Weekly. "I lost important time on Sunday, but look, it's still open."
"Who knows, the next two days are so hard and anything could happen, anyone could explode," Team manager, David Brailsford added. "Who'd give Chelsea the chance to win the European Cup the night before the first Barcelona match? Nobody. Yes, of course there's an opportunity."
Both Uran and Brailsford keep their feet on the ground. Ahead of Urán are riders experienced in placing in the top ten or winning Grand Tours. His best result has been 24th in last year's Tour de France. A good result for Uran would be a top five. A great result would be a podium place and the white jersey.
Sky seems to have the white jersey locked. Uran leads team-mate and Colombian Sergio Henao by 1-46. Gianluca Brambilla (Colnago-CSF Inox) trails at 3-33 minutes. Diego Ulissi (Lampre-ISD) is in fourth, but at 13-24 minutes.
"As you're developing, you need to look for those little wins, sub goals and to keep you motivated along the way," Brailsford added. "I think he can win it [the white jersey], it'd be great if he did."
Brailsford kept an eye on Uran in the last two years when he raced with Caisse d'Epargne. He needed a rider who could climb and with a punch since Grand Tour often feature those types of finishes. In the team, he's been impressed how Uran has gladly grabbed onto new training methods. Then, there's his character.
"He's a bundle of joy to be around, he's a real character," Brailsford said. "The lads really like him."
As he posed for photos, the team's staff called him Mick Jagger as he took off his helmet and brushed his long hair back. Uran smiled, enjoying the laugh and the attention. But, as Brailsford said, he's serious.
"I've been working hard like all the other years," Uran added. "Last year, I didn't go well at the Tour de France. In the last days, I wasn't breathing well, a little allergy. Unfortunately, it went that way due to the weather.
"To win a Grand Tour, I'll have to keep working as I have been every year, harder and harder."
Brailsford said that on a whole, Sky under-performs in time trialling "when it matters". He added that if Uran is able to win a Grand Tour in the future then he and the team need to improve.
"He can already climb with the best in the world," Brailsford explained. "Consistently, reliability, experience, positioning, moving around, saving energy here and there... That's the little bit that you get with experience."
Giro d'Italia 2012: Latest news
Kennaugh withdraws from Giro, next stop Olympics
Giro's Stelvio stage may be shortened due to weather
Izagirre wins on Grand Tour debut
Cavendish silences Cipollini
Sky tightens grip on white jersey
Rodriguez versus Hesjedal in Giro title fight
Cavendish's Sky lead-out still on learning curve
Orica-GreenEdge to strengthen sprint train in Tour de France
Schleck struggles on with dislocated shoulder
Rodriguez up against more experienced rivals in Giro
Bak from worker to winner at the Giro
Giro d'Italia 2012: Live coverage
Giro d'Italia 2012 live text coverage and schedule
Giro d'Italai 2012 stage 13 live text coverage
Giro d'Italia 2012 stage 12 live text coverage
Giro d'Italia 2012 stage 10 live text coverage
Giro d'Italia 2012 stage six live text coverage
Giro d'Italia 2012 stage four live text coverage
Giro d'Italia 2012: Stage reports
Stage 18: Guardini beats Cavendish in final Giro sprint
Stage 17: Rodriguez wins stage to consolidate lead
Stage 16: Izagirre claims Basque breakaway victory
Stage 15: Rabottini takes tough win in Giro
Stage 14: Amador wins Giro's first high mountain stage as Hesjedal reclaims lead
Stage 13: Cavendish makes it three
Stage 12: Bak attacks to win
Stage 11: Ferrari wins Giro stage on ride to redemption
Stage 10: Rodriguez wins thrilling finale to take leadStage nine: Ventoso wins in Frosinone as Goss and Cavendish fall
Stage eight: Pozzovivo takes another Giro win
Stage seven: Hesjedal moves into Giro lead
Stage six: Rubiano solos to epic Giro stage win
Stage five: Cavendish bounces back for another stage win
Stage four: Garmin-Barracuda win TTT to take lead
Stage three: Goss wins in Horsens as Cavendish and Phinney crash
Stage two: Cavendish wins in Herning
Stage one: Phinney wins time trial
Giro d'Italia 2012: Photo galleries
Stage 17 photo gallery
Stage 16 photo gallery
Stage 15 photo gallery
Stage 14 photo gallery
Stage 13 photo gallery
Stage 12 photo gallery
Stage 11 photo gallery
Stage 10 photo gallery
Stage nine photo gallery
Stage eight photo gallery
Stage seven photo gallery
Stage six photo gallery
Stage five photo gallery
Stage four photo gallery
Stage three photo gallery
Stage two photo gallery
Stage one photo gallery
Giro d'Italia 2012: Blogs
Charly Wegelius' Giro blog: Conserving energy for the final week
Charly Wegelius' Giro blog: Holding on to the lead
Charly Wegelius' Giro blog: Getting the team time trial right
Giro moto blog: Hurray for rest day
Giro moto blog: Stage 10
Giro d'Italia 2012: Teams and riders
Giro d'Italia 2012 start list
Giro d'Italia 2012: TV guide
Giro d'Italia 2012: British Eurosport TV schedule
Related links
Giro d'Italia 2012: The Big Preview
Cycling Weekly's Giro d'Italia section
Thank you for reading 20 articles this month* Join now for unlimited access
Enjoy your first month for just £1 / $1 / €1
*Read 5 free articles per month without a subscription
Join now for unlimited access
Try first month for just £1 / $1 / €1