Great Britain picks up 10 European Championships medals on the track in Glasgow
Women's team pursuit, Laura Kenny and Ethan Hayter among top performers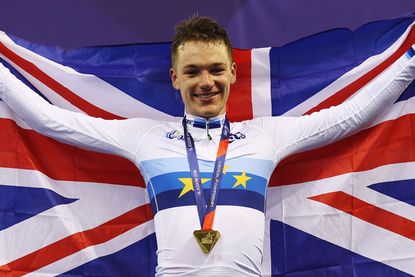 The track events of the 2018 European Championships have come to a conclusion, with Great Britain sweeping up ten medals in total.
The medal count was skewed in the direction of gold - with four in total, to three silver medals and three bronzes.
The events saw both celebrated Olympic champions such as Jason Kenny, Laura Kenny and Katie Archibald back in action - but they also offered the opportunity for newer stars to show their improving form, notably Ethan Hayter secured gold in the omnium ahead of Olympic gold medallist Elia Viviani (Italy).
Women's team pursuit still on top form
The women's team pursuit squad of Laura Kenny, Neah Evans, Katie Archibald and Elinor Barker set a promising scene on the opening day (Friday, August 3) - taking gold ahead of Italy, and Germany in the bronze position.
GB's women's squad lost out on the top spot to the USA at the World Championships in Aleldoorn, but secured a time of 4 minutes 16.896 seconds in Glasgow, averaging out at 56 kilometres per hour.
That's notably (and quite understandably) slower than the world record time Team GB set at Rio, which was 4-10-236 - but significantly quicker than Italy's European Championship time of 4-25-384.
The success came soon after the men's team pursuit squad's less successful outing.
Together Ethan Hayter, Steven Burke, Kian Emadi and Charlie Tanfield took bronze - with Italy securing gold and Switzerland's team wearing silver around their necks.
It was a far cry from the dominant performance Ed Clancy, Kian Emadi, Hayter and Tanfield put in to take World Championship gold in March.
On the same day, 21-year-old Emily Nelson collected silver in the 10 kilometre women's scratch race, losing out to Dutch powerhouse Kirstin Wild, with Jolien D'Hoore (Belgium) third.
Ethan Hayter shows his potential
Graduate of London's Velo Club Londres and closely linked Herne Hill Velodrome, Ethan Hayter showed huge potential, winning the men's omnium on Saturday August 4.
The 19-year-old entered the final discipline - the 25km points race - in fifth position in the overall standings.
However, he picked up a total of 133 points, placing in seven of ten sprints - to jump ahead to first place. Defending Olympic champion Viviani collected 113 points in the final race, to take second with Denmark's Casper vol Folsach third.
Hayter started track cycling at the historic velodrome in 2013, and has joined Team Sky as a stagiaire for the remainder of 2018.
Pairing up with Ollie Wood on Monday August 6, Hayter and his hand-holding partner took bronze in the men's madison, whilst Belgium's duo of Robbe Ghys and Kenny de Ketele claimed the crown and Germany's Roger Kluge and Theo Reinhardt sat in silver.
There was more success from the younger ranks on the final day at the velodrome, Tuesday August 7, when 21-year-old Jack Carlin took bronze in the keirin and 20-year-old Matthew Walls managed gold in the elimination.
Laura Kenny is back, and winning
Laura Kenny collected her second gold of the proceedings in the elimination race on Sunday August 5.
The 26-year-old secured her 12th European title, out-sprinting German Anna Knauer whilst Russia's Evgenia Augustinas was the last to be eliminated from the race before the two went head-to-head.
Kenny, who gave birth to son Albie just 11 months ago, later revealed she'd been awake five times overnight with the youngster.
Asked if she enjoyed the race, four time Olympic champion Kenny said "I find it really stressful... I love winning, and I love doing it when I'm in the race... but before I'm so stressed because I feel like people are thinking 'she's definitely going to win this', because of what I've done in the past, so I get unbelievably nervous."
Double silver for Katie Archibald
It was a proper home games for Scottish Katie Archibald, though she wasn't able to defend her title in the individual pursuit or the omnium.
On Saturday August 4, Archibald lost her pursuit title to German Lisa Brennauer, accepting second after coming three seconds adrift of Brennauer's time of 3-26-879.
On omnium day - Monday August 6 - Archibald again took the second step, this time to Kirstin Wild.
The 24-year-old won the elimination race, and then gained a lap in the points race - unfortunately taking Wild with her. In the end, Archibald collected 144 points to Wild's 156.
On Tuesday August 7, Archibald paired up with Kenny in the madison - a discipline where she holds the UCI rainbow stripes with Nelson - but the pair missed out on a podium spot, in fourth.
Archibald has had a difficult summer, breaking her collarbone in May, recovering following surgery, and then crashing out of the Women's Tour in June.
Great Britain's medal breakdown
Friday Aug 3
SILVER 10km women's scratch, Emily Kay; Kirstin Wild (Ned) gold, Jolien d'Hoore (Bel) Bronze
BRONZE men's team pursuit; Italy Gold, Switzerland silver
GOLD women's team pursuit; Italy silver, Germany bronze
Saturday Aug 4
SILVER 3000m individual pursuit, Katie Archibald; Lisa Brennauer (Ger) gold, Jastyna Kaczkowska (Pol) bronze
GOLD omnium, Ethan Hayter; Elia Viviani (taly) silver, Casper vol Folsach (Den) bronze
Sunday Aug 5
GOLD elimination Laura Kenny; silver Anna Knauer (Ger), Evgenia Augustinas (Rus)
Monday Aug 6
BRONZE men's madison (Ethan Hayter and Ollie Wood); gold Belgium, silver Germany
SILVER women's omnium; Katie Archibald, Kirstin Wild (Ned) gold, Letizia Paternoster (bronze)
Tuesday Aug 7
GOLD men's elimination, Matthew Walls; silver Rui Oliveira (Por), bronze Szymon Krawczyk (Pol)
BRONZE men's keirin Jack Carlin; gold Stefan Bötticher (Germany) and silver Sébastien Vigier (France)
Thank you for reading 20 articles this month* Join now for unlimited access
Enjoy your first month for just £1 / $1 / €1
*Read 5 free articles per month without a subscription
Join now for unlimited access
Try first month for just £1 / $1 / €1