Isaac Mundy and Emma Grant win Urban Hill-Climb in London
200 riders tackle the short and sharp ascent of Swain's Lane in North London on Saturday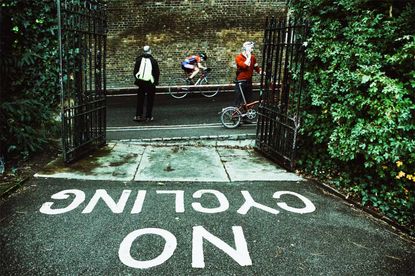 (Image credit: Justin McKie)
Report by Micky McMahon; Photos by Justin McKie
The Urban Hill climb returned to Swain's Lane in Highgate, North London, on Saturday, with over 200 entrants tackling the notorious climb that divides Highgate Cemetery.
The event, last run in 2013, saw Isaac Mundy (OUCC) take the victory over Will Adams (RCC), whilst Emma Grant (Colavita/Bianchi) comfortably won the women's race from Elizabeth Hughes (CCL).
The Urban Hill Climb format sees racers post a qualifying time to determine who will contest the two-up final.
Mundy, a Highgate local who grew up interval training on Swain's Lane, managed a time of 1:21 seconds up the brutal 18 per cent max gradient.
With Adams among five other riders finishing on a time of 1:31, it was he who was quickest and contested the ride-off.
"It was a bit nervy when it started raining before the start. The climb is really steep in places and there was the possibility of sliding out" said Mundy.
>>> 10 climbs from around the world you haven't heard of
"Once you reach the final you're already both knackered, so it becomes a bit more about watching the other guy."
As London's only closed road hill climb, the event has been hugely popular with spectators in the past, and Saturday was no different. In addition to the Men's, Women's, Youth and Veteran's categories, a handful of brave souls entered the (25kg) cargo bike race (complete with child passenger).
Rain played a hand in making the already difficult climb trickier for those who were later off, but the majority of riders were able to test their legs against the 900 metre, eight per cent average gradient in decent conditions.
Organisers Rollapaluza are hopeful that the success and local popularity of the event will see it return next year.
Urban Hill-Climb 2016 results
1. Isaac Mundy in 1-21
2. Will Adams in 1-31
3. Peter Holroyd in 1-31
4. Tom Wiley in 1-31
5. Matt Tucker in 1-31
6. Nathan Huynh in 1-31
7. Bill Bell in 1-32
8. Richard Applin in 1-32
9. Matt Woutherden in 1-32
10. George Spooner in 1-32
Women
1. Emma Grant in 1-48
2. Eryn Nolan in 1-51
3. Maryka Sennema in 1-56
4. Aoife Doherty in 1-59
5. Mathilde Pauls in 1-59
6. Naomi Edmondson in 1-59
7. Aleda Fitzpatrick in 2-02
8. Fiona Leonard in 2-03
9. Petra Dolejsova in 2-04
10. Elizabeth Hughes in 2-06
Thank you for reading 5 articles this month* Join now for unlimited access
Enjoy your first month for just £1 / $1 / €1
*Read 5 free articles per month without a subscription
Join now for unlimited access
Try first month for just £1 / $1 / €1