What did you make of the inaugural Hammer Series?
The first edition of the Hammer Series was won by Team Sky - but what did fans and professionals think of the race?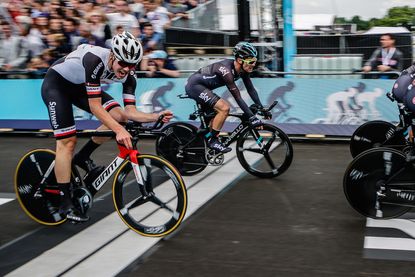 (Image credit: Roel Gaj)
Team Sky emerged victorious from the first ever Hammer Series at the weekend - and riders and spectators were unanimous in their praise of the race.
The innovative event - created by Velon - was held in the Netherlands and was based on a points accumulation method whereby points were awarded to the first ten riders across the finish line at the end of each lap in both stage one's climb and stage two's sprint.
>>> What is the Hammer Series, and how does it work? (video)
On the third and final stage - a team time trial - teams set off at time intervals which were determined by the first two stages.
Movistar won the first stage, Trek-Segafredo the second and Sky the TTT 'chase' in nail-biting fashion to wrap up overall victory.
Giro d'Italia winner Tom Dumoulin (Team Sunweb) raced stage one and watched the remaining two stages from his home.
Leah Kirchmann enjoyed Sunday's thrilling TTT - and hopes to be able to compete herself next year.
Dr. Hutch did make a valid point, though.
On Cycling Weekly's Facebook, fans said that there a few issues that need sorting out, but were mainly enthusiastic about the race and also complementary of the live streams and on-screen graphics. Some even noted that it could be the blueprint to attract non-cycling fans into the sport.
Paul Johnston commented: "I watched all three. The Facebook livestream was great access.
"I found it all highly entertaining and exciting racing. Everyday was a slug-fest and that is always going to be fun to watch. You also weren't sure how it was going to end up points wise so there were some surprises to be had. All around a great race to watch. I hope it continues."
Stuart Gardner said: "[It] was exciting... I think the TTT should be on road bikes with drafting allowed... It would add an interesting dynamic of teams having to work with each other... And safer in the finish..."
Jim Williams posted: "It's the 20/20 of cycling and good television for the 'non-cycling' spectator."
Jacob Kilby proposed: "Think they should make it into a European series with 4-5 versions in different countries... then there could be an overall of all the events as well as one overall for the individual events."
Let us know your thoughts in the comment box.
Thank you for reading 20 articles this month* Join now for unlimited access
Enjoy your first month for just £1 / $1 / €1
*Read 5 free articles per month without a subscription
Join now for unlimited access
Try first month for just £1 / $1 / €1