Mark Cavendish swears by San Luis, rules out Down Under return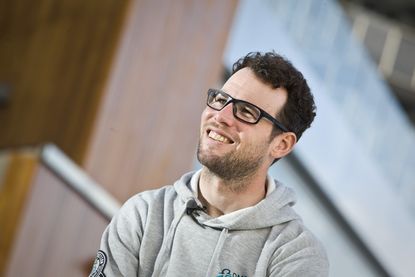 Sun not surf. Mark Cavendish (Omega Pharma-Quick Step) swears by the Tour de San Luis and rules out a Tour Down Under return. He said that the province in central Argentina has everything he needs. Forget the South Australian seaside race.
"[The Tour Down Under] is too hard, it's a WorldTour race," Cavendish told Cycling Weekly and other journalists in San Luis. "[It's] stressful. Physically it's not any more demanding than it is here but with WorldTour points available it's stressful racing. If I was able to go well enough to win in the Tour Down Under then I don't think I could do well again in July. I'm expected to win races. It's not going to be beneficial for the Tour de France."
Cavendish added that he is able "go well" in the 2.1-ranked Argentinean race, which finishes tomorrow, the classics and in the Tour de France.
He raced the Tour Down Under once in 2011. That year, he went on to win a stage in the Tour of Oman, the Scheldeprijs, two Giro d'Italia stages, five Tour de France stages and the green jersey, two in the Tour of Britain and the World Championship title. He said that he would likely return to San Luis every year, however.
"I came last year as a replacement for Tom [Boonen] because he was sick. I enjoyed it so much that I wanted to come again," Cavendish said.
"I wanted an easy start to the year. I wasn't planning on racing but it's good to keep you motivated. I enjoy the nice weather and to ride with Tom a little bit. I could see myself doing it every year."
Cavendish led Boonen in the sprint to Juana Koslay on Wednesday. Boonen placed third behind Giacomo Nizzolo (Trek Factory Racing). They have one more chance to win tomorrow before Cavendish leaves and travels to the Dubai Tour.
The 28-year-old hinted at leading Boonen to the sprint again tomorrow. Losing Alessandro Petacchi to stomach problems on day one, however, complicates their work.
"It was a shame to lose Alessandro because we were just getting into the swing of things," Cavendish said.
"We wanted to win but it's only the first race of the season. If we got all guns blazing here then there's nothing to build up for. If we would've wanted to go full gas then [Mark] Renshaw would've been here. It's not like we came here to test the lead-out, we came here to get form."
Renshaw races the closing stage of the Tour Down Under today in Adelaide, a city no longer on Cavendish's map.
Related links
Mark Cavendish leads out Tom Boonen in Tour de San Luis
Thank you for reading 20 articles this month* Join now for unlimited access
Enjoy your first month for just £1 / $1 / €1
*Read 5 free articles per month without a subscription
Join now for unlimited access
Try first month for just £1 / $1 / €1