Mark Renshaw suffers fracture after being hit by car on training ride
The key lead-out man for Mark Cavendish will be out for at least three months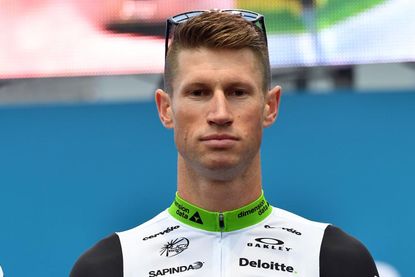 (Image credit: Watson)
Dimension Data's Mark Renshaw has suffered a nasty break after being hit by a car on a training ride.
Australian Renshaw will be out for at least three months after suffering a fractured pelvis in the crash.
The 36-year-old was riding in his hometown when a car pulled out on him at a roundabout.
Speaking from his hospital bed Renshaw said: "I was heading back out on the road for the final two hours of my five-hour training ride and as I entered the roundabout the car looked like it was going to stop, I assume the driver didn't see me and I hit the front right of the car and flew over the bonnet, landing heavily on my pelvis.
"I'm not sure if the impact with the car or the ground caused my injuries but it was definitely a scary moment as you now realize it could have been much worse."
>>> Andrea Tafi not listed in Dimension Data roster for 2019 despite rumours he will join team
Renshaw, a key lead-out man for British sprinter Mark Cavendish, does not need surgery but will miss the start of the 2019 season.
He had been riding at home in Bathurst, Australia following the team's Cape Town training camp last month.
Renshaw was due to start his season at the Australian National Championships in January.
He said: "I'm devastated that my pre-season training will be hampered as I was planning a big start to 2019.
"I returned from our training camp super motivated for next season and I was already into serious training for January's racing.
"It's gutting to have another set-back but as hospital staff have told me, it could have been much worse than it was."
Dimension Data's head of medical, Dr Helge Riepenhoff said: "Mark has a fracture of his left pelvis.
"Unfortunately it will take at least three to four months until he will be back racing but the good news is that he doesn't need surgery."
>>> Mark Cavendish to ride Assos kit for 2019 as Dimension Data announce new partnership
Renshaw has extended his contract with Dimensions Data through 2019 along with Cavendish and fellow lead-out man Bernhard Eisel.
Cavendish is looking to return to form in 2019 after suffering from illness and injury in recent seasons.
The Manxman ended his 2018 season early after being re-diagnosed with Epstein-Barr virus, but is now back to full health and training hard for the new year.
But Renshaw's injury means Cavendish will start 2019 without his trusted lieutenant.
Thank you for reading 5 articles this month* Join now for unlimited access
Enjoy your first month for just £1 / $1 / €1
*Read 5 free articles per month without a subscription
Join now for unlimited access
Try first month for just £1 / $1 / €1