Matt Bottrill takes his first national 25 title
Matt Bottrill wins the national 25m time trial championships in Cumbria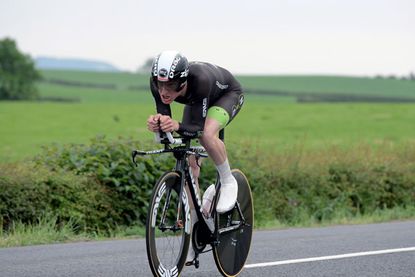 Matthew Bottrill secured the National 25-mile Championship title for the first time, and branded the victory in Cumbria as the best of his career.
The 37-year-old www.drag2zero.com rider completed the course near Keswick in 48:18, 41 seconds quicker than Mike Vaughan Cycles' Matt Clinton.
Bottrill came second to Joe Perrett last year following a five-year spell of Michael Hutchinson dominance.
Hutchinson was on the start list for today's event but was absent from the starting line-up (after his 12th place ride at the Commonwealth Games during the week), paving the way for Bottrill to take top spot with his best ride of the season.
Having already won the 50-mile title earlier in the season, the addition of the much sought-after 25-mile accolade marks what has been a best ever season for Bottrill.
He said: "This definitely ranks as my number one achievement in my career so far. It's something I've always set out do and having been second for so long, it's great to finally do it. Every event I ever won has been training to get this.
"I'm made up with that, after 18 years of trying, I've finally got it under my belt. It's the one I've wanted from being a junior so to finally win it is incredible.
"To win the 50 earlier in the year was amazing but this is the one I was really after and to get it on top of the win in the 50 makes it all the better.
"I was disappointed that Hutch didn't start he has nothing to prove and I'm sure he has his reasons. But it made no difference to my ride, I didn't think about him starting the race beforehand either, I've made that mistake before. I just concentrated on my own ride.
"I was very happy with my ride, it was the best of my season so far. Everything just clicked and it was nice that it happened in the nationals. It's been a long year but it always is."
There was further success for the drag2zero team with vet 50 rider Charles McCulloch finishing third overall in a time of 49:58.
One of their riders also took another category prize with Jeff Jones' 50:31 enough to take the vet 40 category. Coventry RC's David Watson topped the vet 45s with a 53:44 and In-Gear Quickvit's David Pollard was the quickest vet 55 in 54:18.
Finishing 61st overall, Border City Wheeler Alexander Foster was fastest junior and Plymouth Corinthian's Chris Scawn took the vet 60 title. An impressive time of 58:12 left Mike Cotgreave of Westmead Team 88 with the vet 70 title, finishing 90th in a field of 117 riders.
Thank you for reading 10 articles this month* Join now for unlimited access
Enjoy your first month for just £1 / $1 / €1
*Read 5 free articles per month without a subscription
Join now for unlimited access
Try first month for just £1 / $1 / €1
Snowdon Sports is a long-established independent sports news agency, which supplies editorial to a range of media outlets - such as Cycling Weekly - as well as sports governing bodies. Snowdon Sports often covers results at Cycling Time Trials events in the UK and has long been a source of information and imagery to Cycling Weekly.