Kristina Vogel on Team GB: 'I don't want to accuse anyone of anything but it is all very questionable'
German track rider spoke out after Team GB were the most successful team at the Rio 2016 Olympic Games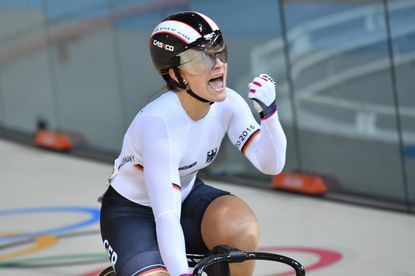 (Image credit: Watson)
Kristina Vogel has spoken out about the runaway success of Team GB's track riders at the Rio 2016 Olympic Games, questioning how the squad performs on the biggest stage without winning much in the lead-up.
The German rider beat both Becky James and Katy Marchant on the way to gold in the track sprint, and also collected bronze in the team sprint.
"They were cannon fodder when you look at the last few years," Vogel said in reference to lacklustre performances by the British riders in World Championships.
"Now they come along with a (high) level," she continued. "I don't want to accuse anyone of anything but it is all very questionable."
Team GB won six gold, four silver and a bronze in the velodrome in Rio. Furthermore, every rider who took to the track in a GB skinsuit came away with a medal of some colour.
However, the team has been off the pace at recent Track World Championships. Jason Kenny gained three gold medals in Rio for example, but has won only two world titles since London 2012.
Laurent Gané, the French sprint coach, also had questions about his rivals' approach following an Olympics where his own riders gained just one bronze medal.
"The recipe should be asked for from our neighbours because I don't understand," Gané said. "I don't know what they're doing.
"These are teams that do nothing extraordinary for four years and once they arrive at the Olympics they outclass the rest of the world."
Michaël D'Almeida, one of Gané's charges, made further veiled comments following his third place in the team sprint.
"We are human beings like them, we are made of the same stuff, we have a bike like they do, so why are they better?" he wondered.
"If I had the explanation I wouldn't be here today with a bronze medal around my neck. I'm not in their camp, in their country, I don't know how it works, I don't know what goes on," he continued, before making the key comment: "I have my ideas about certain things."
Six-time Olympic medallist Anna Meares also spoke after the track cycling at the Olympics came to a close, but has since sought to clarify her comments.
It had been speculated that Meares might be pointing to foul play on the part of the British team, but has moved to state that this was not what she was saying.
The Australian made it clear that the British performances make her "scratch my head to think how we can be better competitive with them at the Olympics."
Thank you for reading 5 articles this month* Join now for unlimited access
Enjoy your first month for just £1 / $1 / €1
*Read 5 free articles per month without a subscription
Join now for unlimited access
Try first month for just £1 / $1 / €1
Jack Elton-Walters hails from the Isle of Wight, and would be quick to tell anyone that it's his favourite place to ride. He has covered a varied range of topics for Cycling Weekly, producing articles focusing on tech, professional racing as well as cycling culture. He moved on to work for Cyclist magazine in 2017.