Laura Trott: 'That was was possibly the easiest world record we've ever got'
The Team GB quartet spoke after winning the women's Olympic team pursuit in a world record time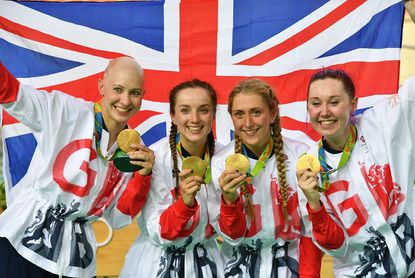 (Image credit: Watson)
Laura Trott, Katie Archibald, Joanna Rowsell-Shand and Elinor Barker won the women's team pursuit in the Rio 2016 Olympic Games, seeing off a strong challenge from Team USA.
After both teams had already beaten the previous world record in the earlier rounds, a fast time was expected when it came to the gold winning ride.
"We knew a world record was on the cards but it almost felt unreal," said Trott not long after the finish.
"I looked up and was like 'no' even though we had already broken the record in training. I didn't believe we were going to do a world record. I actually said to Kate, 'that was was possibly the easiest world record we've ever got'," she added.
Despite how the winning ride felt at the time, the British quartet have not had the easiest of Olympic cycles since London 2012.
"We had two years with the [world] title and two years without the title," Trott continued. "Those two years without it drove us to today. Those horrible years working for it really paid off.
"I've never been in a team that feels so seamless. You could tell everyone was giving 100% to get across that finish line," said the 24-year-old.
More from the Olympics
Great Britain smash world record to win women's team pursuit in Rio

Silver for Becky James in women's keirin in Rio; Elis Ligtlee takes gold

Jason Kenny and Callum Skinner set up all-British final in men's sprint in Rio

Trott's teammate Archibald was still waiting for the reality of being Olympic Champion to hit home.
"[I'm] not totally sure what the right way to act is because you can't believe this is all happening," she said of their victory.
"I expect we will sit down, calm down, and everything will start to hurt then it will sink in. For a long time during preparation I was expecting to live this story that I had seen on the television and you always put yourself in another character's role but now I realise that's actually your story," Archibald said.
Your guide to the team pursuit
Rowsell-Shand, no stranger to Olympic success, spoke of the team's tactics for the final, saying: "It is a bike race, so you have to ride to your own strategy. We aimed to ride the race at our own pace the whole way. Not sure how that worked out, but we came out with a gold, so that is all that matters."
The fourth member of the quartet summed up some of the sacrifices the team had had to make to be on top form for the Rio 2016 Olympic Games, which had clearly all paid off.
"This is worth it. It pays off. This is for every time we didn't go out, every time we ordered fish instead of pizza," said Barker, who at just 21-years-old should feature in a fair few Olympics in the future.
Thank you for reading 20 articles this month* Join now for unlimited access
Enjoy your first month for just £1 / $1 / €1
*Read 5 free articles per month without a subscription
Join now for unlimited access
Try first month for just £1 / $1 / €1