London velodrome: Your verdict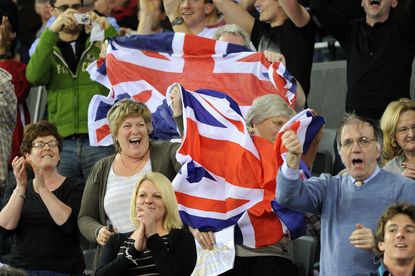 We asked readers who attended the London Track World Cup over the weekend (February 16-19) to comment on their experience.
The overall feeling is that both the event and venue were a resounding success, with spectators praising the venue, quality of racing and atmosphere.
It was the London velodrome's inaugural event, and the first of the new London 2012 Olympic buildings to host a test event ahead of the Games this July.
With building work still continuing at the park as a whole, visitors to the velodrome had to be bussed in from the park entrance. This caused considerable bottlenecks as spectators queued for a place on the transport on the opening night on Thursday. By Sunday, the system had been refined and the queues seemed to be kept to a minimum.
Other recurring complaints regarded the limited toilet facilities and choice/cost of food.
We asked the following question via Twitter: "Did you go to the London velodrome at the weekend to watch the Track World Cup? If you did, what did you think of the experience?"
And here are a selection of the replies we received:
Jim Clayton (@Jim_Clayton)
"TWC - world records, great racing, superb atmosphere. If they can get the mens urinals to drain, they're on to a winner!"
Ian Mitchell (@YodaMitchell)
"By far the best velodrome I have been to as spectator. For test event everything worked. GB cyclists weren't too bad either."
Paul Hogan (@Paul01Hogan)
"Went on Saturday night, 1st time to track racing, great velodrome, great atmosphere, great performance by GB Team"
Scott Taylor (@Scott_Taylor78)
"Fantastic! Great building, amazing atmosphere. A few things to iron out, but overall, very well done."
Mike Barnard (@mike_barnard)
"TWC great venue, great racing, great atmosphere, friendly staff. Only negative was limited food/drink choice and v costly"
Steve Wiltshire (@stevewilts)
"Yes I was at every session. Racing was magnificent. Not pleased at ticketing or availability of tickets to cycling fans though!"
Rick Chasey (@RickChasey)
"TWC - great, apart from terrible food. Doubt prawn sandwich brigade will match the atmosphere come the Olympics though."
Dennis McSweeney (@mcswedx)
"Went Friday pm with 3 mates, we loved it, the only bad point was waiting for the busses to get out of the park"
You can read more reaction from spectators at the London Track World Cup in this week's Cycling Weekly magazine
Related links
London Track World Cup: Coverage index
London 2012 Olympic Games news section
Thank you for reading 5 articles this month* Join now for unlimited access
Enjoy your first month for just £1 / $1 / €1
*Read 5 free articles per month without a subscription
Join now for unlimited access
Try first month for just £1 / $1 / €1