Mark Cavendish to make track return at Derby Revolution round
Cavendish targets UCI ranking points in the Ominium to gain Olympic qualification for Rio 2016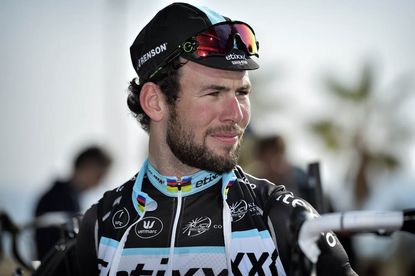 (Image credit: Graham Watson)
Mark Cavendish (Etixx- Quick-Step) is set to make his long-awaited return to the track this weekend at the Revolution Series at Derby Velodrome, as he searches for valuable UCI ranking points to gain a place at the Rio 2016 Olympics.
The Derby round of the track series is a UCI class one event, which will allow the British stars to target qualification points for their respective events. Cavendish, who hasn't ridden an Olympic track event since 2008 in Beijing, will be trying to gain points in the Ominium event and says he is excited about getting back on the boards.
>>> No happy ending for Mark Cavendish after hardest Tour de France of his life
"I'm looking forward to getting back on track and trying the Omnium," Cavendish said.
"I've always maintained that my focus is my performances on the road as a professional rider for Etixx-Quick Step. However if there was any chance, however small, that I could be in a position to go for an Olympic medal in Rio then I have to keep all of my options open.
"No definitive decisions have been made yet. So I will try to do this through picking up qualification points in the Omnium fitted around my road racing schedule. The Omnium is a tough event with all the different disciplines so Derby will be a good test and we'll see how things progress from there."
The Manxman could also feature alongside Sir Bradley Wiggins in the Madison, the first time since Beijing, with both their names down on the organiser's startlist for the event.
Riders need 90 UCI points by September 19 to race track World Cup events and British Cycling endurance Heiko Salzwedel stressed the importance of the Derby event in the build up to next year's Olympics and World Championships.
>>> Bradley Wiggins to ride opening round of Revolution Series
"The Derby Revolution event is a very important milestone in our preparations for the Olympic Games in 2016.
"We have two purposes for the event. One is of course collecting UCI points which will let our riders qualify for the World Championship in London next year, but the other is to establish a pecking order within Team GB – we're looking to determine who is our number one rider, who is our number two rider for each event.
"The dates for the event are no coincidence, this is a chance to try out our preparations for the Games next year – it's a trial run."
The Derby Revolution Series round will take place between Friday, August 14 and Sunday, August 16 with full details available here.
Thank you for reading 20 articles this month* Join now for unlimited access
Enjoy your first month for just £1 / $1 / €1
*Read 5 free articles per month without a subscription
Join now for unlimited access
Try first month for just £1 / $1 / €1