Olympic Velodrome beaten to architecture prize by Brixton school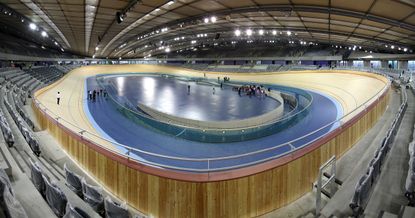 The Olympic velodrome in London was beaten to a prestigious architectural award at the weekend by an innovative school in London.
The Evelyn Grace Academy was awarded the RIBA (Royal Institute of British Architects) Stirling Prize despite being one of the least favourite of the six nominees in the initial public vote.
The velodrome, the first building to be completed in the Olympic park and by far the most attractive, received 62.9 per cent of the public vote, the Evelyn Grace Academy received just 2.8 per cent.
The velodrome, designed by Hopkins Architects, was the standout favourite thanks to the voting, but the winner is decided by a panel of judges who plumped for the school
In the video presentation on the velodrome shown on the night, the narrator said; "The building consummately delivers a simple idea," and that "the affect is one of effortlessness and grace." But maybe the issue for the velodrome was that aside from it's outer beauty (what would have pleased the public) the inside remains simple.
The glass on the concourse level provides 360 degree light, while the suspended cable roof itself is hailed as a "significant engineering achievement," but elsewhere the velodrome's internals are relatively simple. All it really needs to do is house a track and spectators.
However the Evelyn Grace Academy is an exceptionally clever use of space - what architecture is truly all about - and it seems that functionality won out over sheer external beauty.
The velodrome may have lost out on the prize, but the voting suggests it has already won place in the public's heart. On time, on budget and popular with the public, there's not many sporting venues in the world that can make such a boast.
How the velodrome was presented at the award ceremony in Rotherham
The Evelyn Grace Academy, the winning entrant
Thank you for reading 5 articles this month* Join now for unlimited access
Enjoy your first month for just £1 / $1 / €1
*Read 5 free articles per month without a subscription
Join now for unlimited access
Try first month for just £1 / $1 / €1