Plans to build houses on Olympic legacy velopark land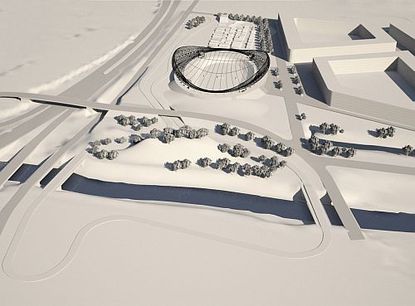 Plans to build housing on land promised for the Olympic Games Velopark Legacy has horrified the Eastway Users Group.
The story goes that the borough of Hackney wants the land, according to Peter King, British Cycling Executive and a member of the Velopark Steering Group. But on Friday, a spokesman for Hackney denied this, saying: "It's not us!"
It has been suggested that the Olympic Legacy road race circuit and mtb trails be shifted a few hundred yards east of their present, agreed setting.
However, says King, the Lee Valley Regional Park Authority (LVRPA) is fiercely resisting the move. They managed the former Eastway cycle circuit on this site, and are poised to take over the management of the Legacy Velopark after the London 2012 Games.
Lee Valley RPA's cherished plans for a Velopark predates the London Olympic bid and in fact were key to the IOC awarding London the Games. Now the story goes that a developer wants to build posh riverside apartments on some of the Velopark land!
The Velopark is to form part of the 26-miles long park stretching along the River Lee from Ware in Hertfordshire, bisecting the Olympic site, on its journey to the River Thames.
Plans show the one-mile road race circuit looping past the Velodrome and BMX track, and crossing the River Lee via two bridges onto land bordering Hackney.
John Birch is Assistant Director of Parks and Venues at LVRPA. He said Lee Valley is eager to see Eastway returned to the original site. This was Britain's first closed circuit and it operated for over 30 years before being demolished to make way for the building of the Games Park, with the agreement it would be returned post 2012.
Birch wouldn't be drawn on which borough or authority proposes the circuit be moved. But he did confirm that a move is being considered, his tone suggesting that the LVRPA will be reluctant to accept anything that falls short of the current plans.
The road circuit is due to open in 2014, the mtb trails the year before, in 2013, when the Velodrome is due to open for public use.
"We're very happy with the way the circuit is positioned in the plans now," said Birch.
"It has taken us two years talking with Hopkins (designers) Eastway Users Group and British Cycling. And we are all very happy with this."
However, he said there is now also a design being worked up moving the circuit to the west. He said the Olympic Park Legacy Company own some of the Olympic Park, and their job is to consider best us of the land.
"If any changes to the Velopark circuit are proposed, LVRPA will want answers to these three questions.
1. Is it affordable?
2. Can it be achieved in the same time scale?
3. Will planning consent be granted to allow it to open in time? Because we want Eastway opened again as soon as possible."
He pointed out that any changes in the layout would have to avoid delaying opening the Velodrome to the public in 2013.
Michael Humphreys, chair of Eastway Users Group, told Cycling Weekly.
"If anyone ever comes up with the idea that planned legacy should be moved, their project has to include the cost of removing two bridges, making an underpass redundant and having to move a perimeter road with all the utilities that are under it."
He said these features were planned and are being built for the legacy and Games-time configuration, representing true public best value because the money spent on the Games would have long-term value.
"When they've justified these extra costs against any gain they might make from a small patch of posh riverside property - always supposing it could get planning approval - then we can start to talk about how much extra they are going to spend to provide for the undertakings on road and off-road circuits in some new configuration. It's all very late and highly unlikely to get full funding like our agreed and consented plans have."
Humphreys points out that besides the "highly contentious issue of financing these huge changes", it would set the plans back because agreement on everything to do with the Velopark would have to be agreed again.
If Eastway Users are dissatisfied with any new plans which may be presented, they say they will be justified in throwing the plans up for judicial review.
"We negotiated the legacy very carefully and had a firm agreement for a circuit which gained planning approval in August 2010," says Humphreys.
Subscribe to Cycling Weekly: The perfect Christmas gift>> (opens in new tab)
Thank you for reading 10 articles this month* Join now for unlimited access
Enjoy your first month for just £1 / $1 / €1
*Read 5 free articles per month without a subscription
Join now for unlimited access
Try first month for just £1 / $1 / €1
Keith Bingham joined the Cycling Weekly team in the summer of 1971, and retired in 2011. During his time, he covered numerous Tours de France, Milk Races and everything in-between. He was well known for his long-running 'Bikewatch' column, and played a pivotal role in fighting for the future of once at-threat cycling venues such as Hog Hill and Herne Hill Velodrome.