Riders respond to women's Olympic road race route which 'does not signal equality'
"The signal that goes out from these different course types for men and women is not [one of] equality" - says 2012 Olympic champion Marianne Vos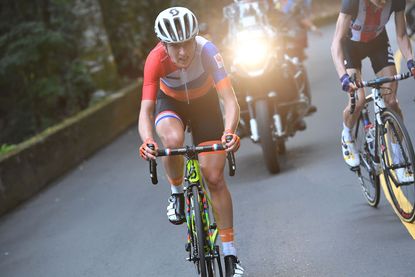 (Image credit: Yuzuru SUNADA)
The route for the 2020 Olympic road race has been met with a mixture of discontent and disappointment - both from fans and riders.
The men's race for the Tokyo games looks like it will be one of lively excitement, but the women's event skips the key features of Mount Fuji and the Mikuni Pass - decisive climbs which would typically create exciting viewing.
The women's race does cover 2692 metres of elevation over 137 kilometres - so it would be wrong to say it'll be "easy" by any stretch.
However, comparing the two profiles side by side shows a juxtaposition that's hard to ignore.
"It will be difficult to control the race, and this will allow for lots of attacking and aggressive riding in the first stages of the races" said Thomas Rohregger, former Olympic road cyclist and UCI Technical Advisor, on announcing the route.
It's hard to believe the comments above were made of the women's race - and riders have expressed their concern.
Four time Japanese national road and time trial champion, Eri Yonamine issued a comment via Twitter, saying: "There's a lot of discussions about men's and women's difference in the world. But in Japan no one is discussing gender equality: media, federation, riders, staffs.
"I'm a bit hesitate [sic] to say it but just sad, and sorry."
The Wiggle-High5 rider added: "I guess this course was made by [someone[ Japanese [who doesn't know much] about road races. And also doesn't care about gender equality. I can understand why it happened like this.
"Japan is a difficult country to be gender equal and to have a world level road race."
Yonamine was not the only rider to comment.
>>> 'Britain has embraced women's cycling – elsewhere you have a lot of old men': Ina Teutenberg on a women's Tour de France
Annemiek van Vleuten, whose recent run of excellent form saw her win both the Giro Rosa and La Course, commented "disappointed (again!) to see the differences in courses between the men's and women's road race."
A major concern among many is that with a course that climbs steadily and then descends to the finish, there will be little opportunity for a breakaway rider to provide a credible spectacle.
That spells a missed opportunity to show the world what women's racing can look like.
Olympic champion of 2012, Marianne Vos commented that "riders make the race", however she added "the signal that goes out from these different course types for men and women is not the equality that the IOC [International Olympic Committee] aims for."
Ex-pro and former road commissioner at the IOC Iris Slappendel suggested that neither course was ideal.
Replying to a suggestion that the men's course is simply too hard, especially after Rio's parcours favoured a climber too, she said: "it was supposed to be a more 'easy'/classic style race, similar for both races."
It's far from the first time women's races have been denied the opportunity to create brilliant images which will live on in the minds of fans.
In September, both men and women will compete for the title of UCI Road World Champion - but the women will not have the opportunity to scale the finishing climb - nicknamed 'hell' and boasting sections at 25 per cent just 10 kilometres from the finish.
Women's races are typically shorter than men's - the Olympic route for the women will be 137km to the men's 234km.
The result is that there's a lot less time spent 'drifting', warming up, chatting in the peloton and vaguely chasing a breakaway - and thus the rider's can invest a lot more energy into creating explosive racing.
Van Vleuten demonstrated this beautifully with her ascent of the Izoard at La Course in 2017 - which was bested only by two men at the Tour de France, stage winner Warren Barguil and second place overall Romain Bardet.
At the 2016 Olympic games in Rio, the women still raced 141km to the men's 241km.
However, they used the same course - the men simply completed more laps. The finishing loop featured a two stage climb followed by a highly technical descent, which led to exciting racing in both events.
Thank you for reading 20 articles this month* Join now for unlimited access
Enjoy your first month for just £1 / $1 / €1
*Read 5 free articles per month without a subscription
Join now for unlimited access
Try first month for just £1 / $1 / €1