'Britain has embraced women's cycling – elsewhere you have a lot of old men'
Former sprinter Ina Teutenberg believes the media has a job to do to help grow women's cycling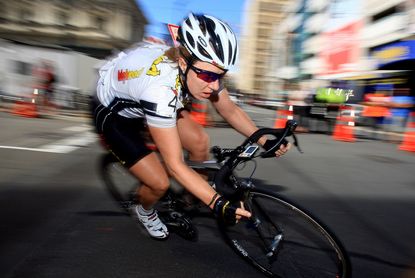 (Image credit: Getty Images)
Legendary German sprinter Ina Teutenberg has returned to professional women's cycling full-time, in a director's role with the new Trek Factory Women's Racing team.
With a Tour of Flanders win, UCI World Championships bronze and gold in the team pursuit to her name, plus two Olympic appearances, Teutenberg's decision to end her riding career came with a thud. A crash resulting in season-ending concussion brought her down, earlier than planned.
The 43-year-old is retuning to a very different sport - the landscape of women's cycling is constantly shifting – generally in an upward trajectory, though rarely quick enough.
"Now almost every team has a mobile home, there are buses around. There are still hundreds of things that we need to change, but it's not like the guys cycling world is perfect either," Teutenberg said.
"It is all going in the right direction. I think the biggest problems are media and salaries. There are girls who make pretty good money, but I think there are still way too many who struggle to make a living. I think a lot of teams would like to pay a minimum wage, but they just can't afford it."
With the Tour de France having just drawn to its deafening crescendo, there's plenty of talk around whether or not a return of a women's version is right for the sport.
>>> 13 women will ride into Paris tomorrow but parity is their finish line
There are benefits to running a women's event alongside a men's race: "you do have more TV coverage, more spectators - it's exciting for the women and any race you do alongside the guys is great for the atmosphere."
But pairing with the men's race brings a lot of distractions, and just as many logistical issues for the press as for ASO, though Teutenberg sees it more as a lack of interest than a case of stretched resources.
"I think a women's Tour de France would be helpful, but the media has to be really interested in it too," she said. "Would reporters really be interested when the guys still have 50 kilometres to go, and the women finish? Would they come and interview the riders?"
Indeed, at ASO's one day 'La Course', there was no press conference, those who were gathered did their interviews outside, after the finish line.
"I've seen it at the Tour of California - the guys don't even come out of the press room and the women just finish. They don't really give a rat's arse. There can be more coverage, if people actually care."
"Every year at Flèche Wallonne, they don't show the last kilometre of the women's race on the TV. Even though the guys still have 120 km to go, the team is chasing a break, and they don't even bother putting the last kilometre on the TV - which I don't get. The cameras are installed there, there's nothing going on in the guy's race. It's there, but they don't use it, and that's kind of sad."
In Britain, the Women's Tour draws in crowds, TV coverage and column inches every year. Perhaps that's a better platform?
"If all the races were like the Women's Tour of Britain, that draws its own crowds, has its own TV stuff, I don't think it would be needed for women's races to run alongside men's," Teutenberg added.
"Britain has embraced women's cycling just as much as guy's cycling and they're pretty unique in that. I wish more were the same. Elsewhere, you have a lot of old men."
She does add a disclaimer to her comments: "I hate to criticise, because I've not been around for a few years, and if I'm not doing something about it, I can't criticise really"
Teutenberg is certainly due to play a pivotal role next year.
With the Women's Tour a regular fixture in the UCI Women's WorldTour calendar that Teutenberg and her Trek Factory Racing squad will be targeting, expect to see them competing on UK soil in 2019, and the director is wasting no time getting stuck in.
Former world champion Lizzie Deignan is already on the roster, and there are some exciting signings due to be announced.
"We should be competitive from the start, even though we are new," she said. "There's enough experienced riders on the team, with a couple of young ones, that even if they have to get used to one another, I don't think that it will be an excuse for not having success."
Women's teams that run alongside a men's squad - like the Highroad team that Teutenberg rode for much of her career - are becoming more popular, with the likes of Sunweb and Mitchelton-Scott pulling in results that can't be ignored.
Sunweb holds the UCI World Championship team time trial title and Mitchelton-Scott won both the Giro Rosa and La Course with Annemiek van Vleuten.
"There are just so many resources that men's teams have. It's difficult to have those resources on a women's team budget. It's an advantage for the girls, companies seem to do a little bit more for the guy's teams, and being a part of the organisation, the girls get access."
"We will have everything around us we need to be successful. The men's team management is really, really behind this team, it's not just an 'add on' - we will have a really good working relationship."
Thank you for reading 20 articles this month* Join now for unlimited access
Enjoy your first month for just £1 / $1 / €1
*Read 5 free articles per month without a subscription
Join now for unlimited access
Try first month for just £1 / $1 / €1