UCI ready to agree to cycling venue switch for Tokyo Olympics
President Brian Cookson says that he is "optimistic" about having a solution to a proposed venue switch to the Izu province for cycling at the 2020 Games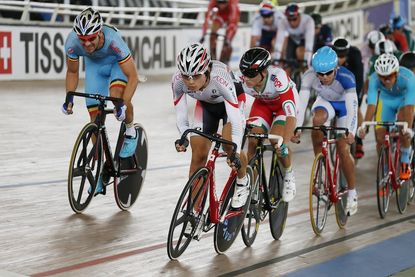 (Image credit: Photo : Yuzuru SUNADA)
UCI president Brian Cookson says he is "optimistic" that he will receive the assurances he wants from the 2020 Tokyo Olympic Games organisers over a proposed switch to cycling venues for the Games, which will see events moved outside of Japan's capital.
After months of negotiations with organisers - who want to move the track cycling venue around two hours away from Tokyo to the Izu province to save money - Cookson has said that he's ready to accept the change as long as the organisers are able to "minimise" the impact of holding the events so far away.
Track cycling, as well as mountain biking and BMX, had all originally been planned to take place in Tokyo, but cost-cutting measures have seen it move away from the host city.
Although a number of other sports are set to be held in surrounding areas, the UCI were immediately concerned that cycling would suffer the most, but have relented after long talks with the Tokyo committee and the International Olympic Committee.
Watch: How much faster does a skinsuit make you?
"I'm optimistic we will have a solution within the next couple of weeks," president Cookson told the Associated Press this week.
"We still want to have one or two assurances about the changes that are proposed, the impact that will have on the cycling events and the success of the cycling events.
"It's no secret that the big issue was moving the track events out to Izu. It's a long way from central Tokyo to Izu and we need to make sure the impact of that is minimised if that's the only available solution."
Izu already boasts a modern 250m track arena, opened in 2011, but its modest seating capacity means it may need to be upgraded if it is to host Olympic events at the 2020 Games.
Organisers and the IOC are keen to quickly finalise a solution after initial deadlines to settle the dispute have passed, having already moved a number of events out of Tokyo in cost saving measures that they say will save $1.7 billion.
Cycling events are compulsory for Olympic hosts, but track cycling has already fallen victim to cost-cutting measures in the Commonwealth Games as South African city Durban omitted the sport from its year in 2022.
Thank you for reading 5 articles this month* Join now for unlimited access
Enjoy your first month for just £1 / $1 / €1
*Read 5 free articles per month without a subscription
Join now for unlimited access
Try first month for just £1 / $1 / €1