It's the Sunweb way or the highway - what's happening at Team Sunweb?
Why have a number of riders and staff left the team?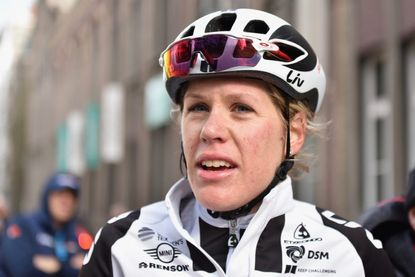 (Image credit: Owen Rogers)
The last few weeks have seen some notable departures from Team Sunweb. Experienced staff have moved on, and a couple of riders have left for pastures new.
Of those riders, perhaps the most high profile is former world time trial champion Ellen van Dijk, who leaves after two years to join the Trek-Segafredo women's super-team for 2019. Not only did van Dijk lead the team to the world team time trial championship, her efforts were key to many of their successes.
In an interview with Dagblad van het Noorden, in her Dutch homeland, van Dijk complained how restricted she felt in the team.
"At Sunweb there are 48 protocols that have to be followed, and more and more are being added," she said.
"For the warm-up, there is a podium protocol, there are rules everywhere. I sometimes find it oppressive that everything is decided for you and you cannot think of anything yourself."
Such a structure has brought the team huge success with wins in top races like the Tour of Flanders, RideLondon and stages of the Giro Rosa. Their 2017 Worlds team time trial success preceded identical success for the men, who have become the only outfit able to challenge Team Sky in Grand Tours.
They won the 2017 Giro with Tom Dumoulin, then the points and mountains classifications at that year's Tour. This year Dumoulin finished second in both this year's Giro and Tour de France, both behind Sky riders.
Yet this year neither team has had the success of last season.
Only halfway through his two year contract with Sunweb, Belgian Edward Theuns will follow van Dijk to Trek-Segafredo, returning to the team he left at the end of 2017.
After 11 years with the organisation as both rider and coach Tom Veelers has left, and only last week a team press release announced Morten Bennekou and Adriaan Helmantel - both experienced members of the coaching staff - were leaving.
Helmantel's departure is perhaps most interesting, as part of his role has been helping Dumoulin in the time trials which have proved so key to his - and the team's - successes.
"Team Sunweb will announce replacements shortly," read the final line of the press release, suggesting the departures came with little notice.
So is the Sunweb dream crumbling?
At 31 Van Dijk is an experienced rider. Third in the individual time trial World Championships this year, she won the title in 2015, as well the team event four times, one of those with Sunweb. Experienced, she knows her mind and what she wants to perform at her best.
"If I wanted to do certain things in my own way and the protocol prescribed differently, it would be done like that," she continued.
"In 90 per cent of cases that works excellently, especially for younger riders, but in some cases not. I have gained the necessary experience as a rider and I think that sometimes I can do my own way better."
In the interview van Dijk admits she knew what she was getting into when she joined the team, and that she enjoyed her time there.
Perhaps the team just did not fit her. It didn't fit Theuns.
"I tried to adapt to the team's way of working, but it didn't really work out for me," Theuns is quoted as saying.. "We differ in vision so we decided that it would be best to end the contract. I now look forward to a new chapter in my career."
And that is the crux of the issue. The team and their 'Keep Challenging' mantra is not for everyone.
"We are not an easy team," Sunweb team principle Iwan Spekenbrink told Cycling Weekly in a 2017 interview. "It is very demanding, it is a very successful but very demanding top sport approach."
It's all about the team at Sunweb, personal ambition must fit team goals. Riders and staff need to accept that ethos, if they don't fit in they won't stay very long.
"As in any organisation, the fit between the people and the philosophy is very important," a team spokesman told CW.
"We set the bar high, which requires full dedication and continual focus on how to improve and become a better team. That's mostly how we have got where we are, but not always easy for everyone.
"Whether it's in cycling or business life, contracts end and people get offers externally. That's quite a normal and healthy situation."
As well as the men's and women's programmes, Sunweb run an under-23 team which regularly feeds the WorldTour squad. They have recruited and developed excellent young women, who have repaid the team with success before their 21st birthdays.
The team's successes often come from riders who have been with the organisation for years and accepted its foibles.
With that in mind, while the recent departures may have a minor effect on team dynamic, the squad's code has worked very well until now, so don't accept change any time soon.
Thank you for reading 20 articles this month* Join now for unlimited access
Enjoy your first month for just £1 / $1 / €1
*Read 5 free articles per month without a subscription
Join now for unlimited access
Try first month for just £1 / $1 / €1