This is what it takes to win Strade Bianche: Michal Kwiatkowski's ride on Strava
Pole uploads his sensational solo ride to Strava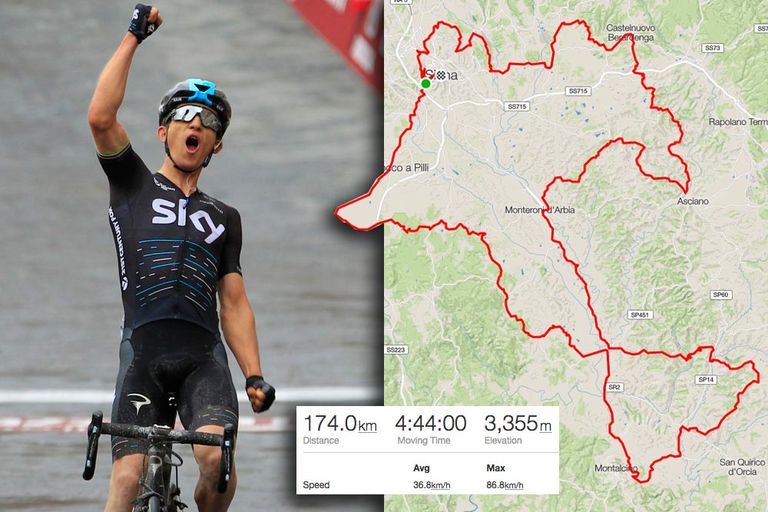 (Image credit: Sunada/Strava)
Michal Kwiatkowski's ride at Strade Bianche looked pretty impressive on TV, and now we've got a chance to have a look at some of the stats, with the Pole uploading his ride to Strava.
According to the stats, Kwiatkowski averaged 36.8kmh (or 22.9mph) over the course of the 174km race, finishing in a time of 4-44-00 (although the official results give him a time of 4-42-42).
That included more 3,355m of climbing, with the miserable conditions giving an average temperature of just 8ºC.
>>> Michal Kwiatkowski: 'I needed to perform well...I'm not a machine'
Rather surprisingly, the 26-year-old only picked up a single KOM, on the "Eroica 1" Strava segment, covering the fifth off-road sector of the race at Lucignano d'Asso.
Unfortunately, there aren't any power numbers in the file, so we can't see what sort of wattage Kwiatkowski was putting out in his crucial attack, but we can see that he took his foot off the gas in the final kilometre, which he covered 25 seconds slower than second-placed Greg Van Avermaet.
>>> Greg Van Avermaet's Omloop Het Nieuwsblad winning ride on Strava shows he averaged 25.5mph
As for the women's race, none of the top three uploaded their rides to Strava, but we do have the stats of fourth-placed Lucinda Brand, who fared slightly better in the achievement stakes, picking up four QOMs, and covering the final kilometre only 12 seconds slower than Kwiatkowski.