The Tanfield Factor: Harry and Charlie discuss fame, family and the future
Brothers Harry and Charlie discuss fame, family and the future with Owen Rogers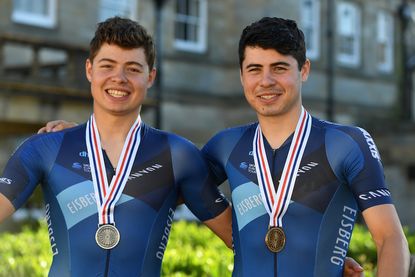 All Great Ayton was out when the Tanfield brothers returned home from this year's Commonwealth Games — the Yorkshire village would not let their return home go unmarked. The brothers' trip Down Under was a huge success, with 23-year-old Harry winning time trial silver and Charlie bagging gold and silver in the individual and team pursuits respectively.
"The band was there, they had a stage, I had family members turn up that I didn't know existed! The green was packed, there was bunting, bikes painted gold and silver and the local shops had 'well done Harry and Charlie' in their windows," Charlie tells us somewhat incredulously.
>>> 'The hard work starts now' says Harry Tanfield as he signs with Katusha-Alpecin for 2019
"It was crazy," Harry chips in. "Because it's the Commonwealths every one knows about it; I tell people I won a stage at the Tour de Yorkshire and they don't know how big it is."
"I went on holiday after, we went to Rome for a few days," interrupts Charlie, the younger sibling, before Harry continues.
"You got a holiday, me I got three or four days to get over my jet lag and get training for Rutland because Yorkshire selection was based on that."
Interviewing the Tanfield brothers is like trying to referee a family conversation at the dinner table, but without the arguments. During quick fire conversations about peak power and aerodynamics they constantly interrupt each other, finish each other's sentences and there is perpetual good-tempered ribbing.
It's more amusing than frustrating, as two more interesting and engaging people you would struggle to find, though it is perhaps just as well that Toby, the third brother, is not present.
Early promise
The 2018 season has been a fabulous one for the two elder Tanfield brothers. Two years apart, they share their November birthday, so it is perhaps inevitable they have followed parallel careers.
Riding for Team KGF, victory in both individual and team pursuit at the track World Cup in Minsk last January brought Charlie selection for the national team at the World Championships. There, aged just 21, he won the rainbow bands in the team pursuit, before heading to the Gold Coast to represent England at the Commonwealth Games. It didn't come easy.
"He's worked flippin' hard for this, some of the stuff he does is another level," said KGF team-mate Dan Bigham at the time. "He'll do a full day at uni, nine to six, then get home, strap his lights on and go out for a five-hour ride."
These performances saw him offered a full time place on BC's Podium Programme — uni went on hold. He went on to take the under-23 national time trial title.
Harry is more established, though this was the most successful year of his career to date. His Commonwealth silver was perhaps overshadowed by stage one success at the Tour de Yorkshire, but there were also Tour Series victories and a second place behind Team Sky's Tour de France winner Geraint Thomas at the National Time Trial Championships.
"Obviously winning the opener in Yorkshire this year was massive," he says. "We got extremely lucky with that, they [the bunch] underestimated the power of the break, they weren't even close, we had time to sit up and mess about.
"It didn't sink in for a while, I massively underestimated how big it was, the coverage, and for a month after every bike race I went to everyone wanted a picture or an autograph."
He adds: "Everyone said the Commy Games TT was huge, but the level wasn't as high as the Nationals," before Charlie brings him back to earth.
"But it was another second place for your palmarès," he says, grinning.
He may have finished second, but his talents landed a professional contract with WorldTour outfit Katusha-Alpecin.
These achievements make the Cleveland Wheelers League 2000, where the pair began their competitive cycling careers, seem a long way away.
"I did everything, swimming, football, I wasn't necessarily good at them but I was fit and I could go into a sport and dominate it," Charlie explains. "We would always ride when we went camping as a family, then we went down to the local race league and we discovered we were really competitive and it kicked off from there."
"We all started at exactly the same time," Harry interrupts. "I was 11, Charlie would have been nine and Toby would have been four. I always liked to win, that was the main thing, I hate losing," he laughs.
Though Charlie was marginally more successful as an under-eight than Harry was an under-12, both Tanfields won during that 2005 season, and the following year they continued the trend at events all over the country.
Track racing in 2007 saw them competing nearly every weekend with similar success. Charlie's Under-12 omnium and Circuit Race Championships in 2008 were the family's first national titles, and when Harry won his first E1234 road race aged 16 the die was cast for the brothers' future.
Healthy rivalry
Most attempts to get either to talk about their relationship are met by laughs, bluster and another bout of hilarious, though merciless, micky taking.
"It does spur both of us on," Charlie finally admits. "If Harry wins a stage of the Tour de Yorkshire or something then all of sudden I want to do that, I need to level the playing field a little bit, and it shows if he can do it, I can do it."
And spurred on they have been.
In 2015, Harry signed for JLT-Condor, and while his stay with the squad was short lived, he showed his promise with third place at the Rutland Melton International CiCLE Classic and ninth on stage two of the Tour de Yorkshire.
"That was massive, I had never competed at anything like a 2.1," he says, as if still slightly bewildered. "I fluked it a bit, but I was there or thereabouts, I just rode in on the hoods."
While Harry was racing the Conti-level circuit, Charlie had been continuing through the age groups, winning his first Elite-ranked race in the same winter race series as Harry had three years before. However, by the time he joined his brother at BikeChannel-Canyon as a stagiaire in 2017, he had already returned to the track.
While studying for a mechanical engineering degree in Derby he, along with Dan Bigham, Jacob Tipper and Jonathan Wale, set up Team KGF. The quartet combined their physical talents with collective intelligence, inquisitiveness and technical knowhow to win the national team pursuit title.
"We fully committed," Charlie explains. "We had done about four track sessions and we managed to beat the Under-23 Academy and then we took it seriously, moved into the same place, trained properly, got support off the Derby Institute of Sport, invested all of our student loans, begged, crowd-funded.
"I first realised that I could win a world title at the Glasgow GP late last year, I did a world class time and I thought, if I can get more gains here I could go faster."
And faster he went, winning the individual pursuit on the track at January's World Cup in Minsk with a time of 4:12.253, less than two seconds behind Jack Bobridge's then world record. All the while riding as a self-funded athlete.
"How else do you get into track cycling and compete at a World Cup ?" offers Harry."Unless I'd been on the Under-18 Academy, GB weren't going to take me," continues Charlie. "But I wouldn't have wanted to be on the Academy then because I liked the freedom to try different things and experiment."
Brains and brawn
While they may like a joke, speaking to them it is clear both Tanfields are bright. Both bring an intellectual approach to the sport, whether that's looking for aerodynamic gains or analysing rivals' performances on Strava, but also insist success is a combination of head and legs.
"It helps but ultimately you've still got to push the pedals," asserts Harry, a civil engineering graduate. "In a 10-mile time trial the other day I was doing 440 watts — that's WorldTour power. I'm not just floating round because I'm real aero, I'm pushing the pedals hard."
With his brother at Team GB, this autumn it'll be Harry riding for KGF.
"Charlie's really jealous because he's not in the club now," he laughs, though he realises joining Katusha-Alpecin for a December training camp is his new reality. "You can't just slot in and win stages, I'll probably go and ride on the front at 350 watts for two hours. I guess I'm a bit nervous," he later admits.
With his university studies deferred, Charlie is aiming to add to Britain's impressive haul of team pursuit Olympic gold medals in Tokyo, and is at home with Team GB.
"It's worked really well at GB actually," Charlie says, countering his brother's claim he's missing no longer being one of the KGF lads.
"At first I was a bit shy, but then I realised that if you want to get something you're going to have to ask, ultimately they can only say no. Everything's up for debate, it's not just a one way thing.
"Ultimately they want performance and if that's the way to get performance out of someone then that's the way to do things."
After 13 years together, the brothers' careers are finally heading in different directions, though their talent, enthusiasm, intelligence and sense of humour will hold them in good stead. But whatever they go on to achieve, they have left their mark at home.
"They have never forgotten the club," says Steve Tilley, Cleveland Wheelers' General Secretary. "They offer advice, and stay as involved as anyone in their position could. We're all immensely proud of them."
Thank you for reading 20 articles this month* Join now for unlimited access
Enjoy your first month for just £1 / $1 / €1
*Read 5 free articles per month without a subscription
Join now for unlimited access
Try first month for just £1 / $1 / €1