Team pursuit performances show British depth of talent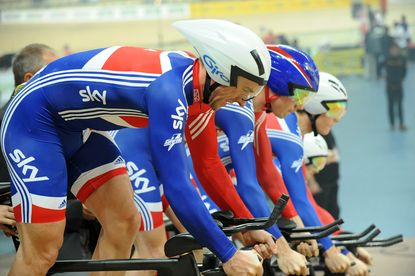 Great Britain's gold medal ride in the men's team pursuit yesterday may not have come close to their world record (3:53.314) or Australia's time (3:55.421) at the Commonwealth Games but it was nonetheless an encouraging performance for coach Dan Hunt.
"It's always good when we come to a championship like this without the best team we could have, yet we're still riding 4-0s and winning championships," he said. "That shows the depth of talent that exists in the programme."
Clocking a time of 4:00.482, the quartet of Ed Clancy, Steven Burke, Andy Tennant and Jason Queally beat their Russian opponents in the final by over three and a half seconds. Riders who weren't in the team included Olympic gold medallists Bradley Wiggins and Geraint Thomas.
"We didn't come here to break the world record," said Hunt. "We've got a new bloke in the team: Jason Queally. We had a couple of little problems in the first round but then rectified them in the second, so we're moving forward."
Asked what those problems were, Hunt explained that the team had lost pace on former sprinter Queally's third turn at the front ("that should have really been a half lap") and also found themselves slightly overgeared ("my fault").
Although Sydney Olympics kilometre champion Queally went along to the Worlds in March as fifth man, this weekend's event was his first actual ride in a team pursuit in a major championship.
Starting in fourth position, the 40 year old appeared to slot well into the team. He did turns up until the 3km mark before peeling off to let his three team mates finish the job off.
"In time, he could be a good man one or a good man two and he has power to spare," said Hunt. "With time we may adapt our strategy around that a little bit. But at the moment it's a case of Jason coming up to a level around the rest of them."
The depth of talent that Hunt describes is not exclusive to the men's team either. The British women also claimed team pursuit gold last night with a dominating ride over Lithuania in the final.
With former world champion Wendy Houvenaghel being joined by Academy rider Katie Colclough and junior Laura Trott it was a relatively young and inexperienced team that took the European title.
Come a higher priority championship, there's a wealth of other riders who might also be considered including Lizzie Armitstead, Rebecca Romero, Sarah Storey and Joanna Rowsell. Even Nicole Cooke has expressed an interest in getting in on the action.
"There are a lot of girls down for the team - 10 or 11 of us," noted Colclough. "I think that can only help us all step up a level though. It means we all have to be on our toes."
European Track Championships 2010: Cycling Weekly's coverage index
Thank you for reading 20 articles this month* Join now for unlimited access
Enjoy your first month for just £1 / $1 / €1
*Read 5 free articles per month without a subscription
Join now for unlimited access
Try first month for just £1 / $1 / €1