Today's brutal final climb at Paris-Nice is a lot harder than it looks on paper
Mont Brouilly is not to be underestimated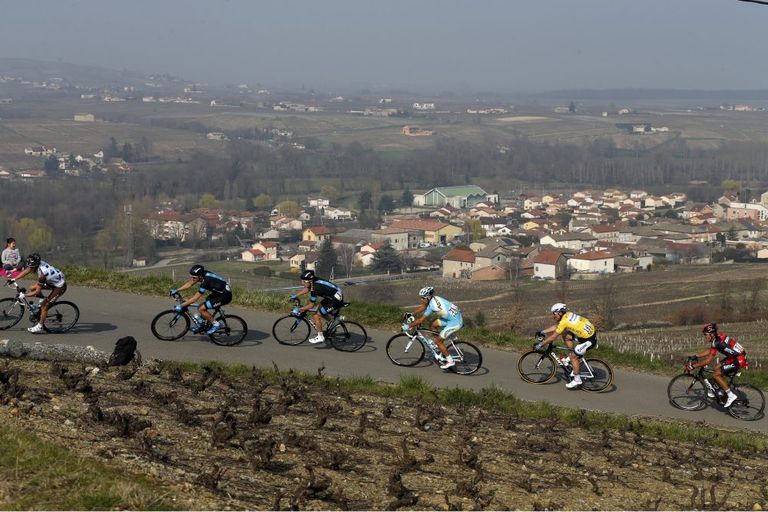 (Image credit: Watson)
Here's the profile of today's Paris-Nice time trial. Take a quick look and you'd be forgiven for thinking that this is a flat stage that will yield only very small time gaps at the finish.
But what that profile is hiding is a seriously tough finishing climb up Mont Brouilly that could really split the field up, making lots of riders pay dearly if they've set off too hard in the opening kilometres.
The full road book contains a profile of the final climb, but even this doesn't really show just how tough this climb is.
The profile on the left is the one that the riders will currently be casting their eyes over as they prepare for today's stage, and appears to show a relatively steady climb that gradually gets steeper as it reached the top.
However the profile on the right, which is what the organisers used when the race went over Mont Brouilly in 2014, gives a much better indication of the the true nature of this climb, with wild variation in gradients up to 25 per cent, and a final kilometre averaging double figures even with a few flat sections.
>>> Watch: Paris-Nice 2017 stage three highlights
This will make pacing crucial to the very end of today's 14.5km time trial, as riders will have to hold a little back to the very end, and anyone who tries to hit the bottom of the climb hard and hold on to the top will surely pay the price.
The good news for the riders is that the weather should stay dry throughout the day, a far cry from the race's last visit to Mont Brouilly in 2016, when the stage had to be called off due to heavy snow.