Tom Dumoulin films himself riding his bike despite suffering with a broken arm (video)
A fractured left arm isn't enough to keep Tom Dumoulin off his bike and the Dutchman is confident of making it to the Olympic Games in good shape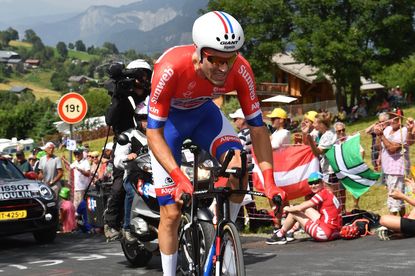 (Image credit: Watson)
Tom Dumoulin's Olympic dreams are by no means over, if the Dutchman's latest Twitter post is anything to go by.
The double Tour de France stage winner recorded himself riding his bike along the road just days after he fractured his left arm in a crash on stage 19.
X-rays showed a clean fracture of Dumoulin's radius but no further injury to his wrist. In his video, Dumoulin says his arm is a little stiff, but he's still able to ride his bike.
Following his performances in the two time trials at the Tour de France - winning stage 13 by over a minute and narrowly missing out on the stage 18 mountain test - Dumoulin admitted he would be favourite for the time trial in Rio on August 10.
But a heavy fall near the back of the peloton while trying to stay out of trouble on stage 19 looked to put an end to his quest for gold which has seen him forego challenging for the general classification in any of the Grand Tours this year.
Thank you for reading 20 articles this month* Join now for unlimited access
Enjoy your first month for just £1 / $1 / €1
*Read 5 free articles per month without a subscription
Join now for unlimited access
Try first month for just £1 / $1 / €1