Cavendish the climber: Tour de France comment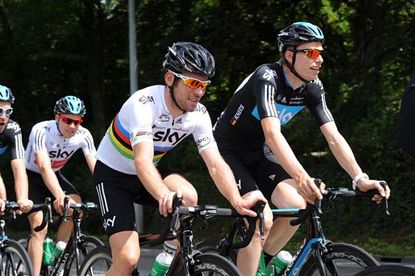 As World road race champion Mark Cavendish settles in at the start of the Tour de France, he's going into it with a surprisingly low level of expectation. As we noted earlier, he's "not got his eyes on the green jersey" and his basic goal is "to win a stage."
Yes, the dominant sprinter of recent seasons is hoping to win a stage. Not two or three or five and a green jersey, just one stage.
Clearly, the 2012 model Cavendish is a different one to the unstoppable force who ruled the sprints during the 2011 Tour de France. More seriously, the change in this year's Cav it is that he is weaker. Or perhaps, less strong - certainly he has less power, a fact he seems utterly unconcerned about.
"I've got less power than I did last year," he admitted during his pre-Tour de France press conference, "but my form is better." It's hard, in this SRM monitored, power-obsessed age, to imagine any pro rider happy to lose power and for a sprinter it would seem to be the last thing he would deliberately seek to do.
But then, perhaps we are at the dawn of a transformation of Cavendish from sprinter supreme to a rider a little closer in riding characteristics to Sean Kelly or Thor Hushovd? While it's inconceivable that Cavendish could ever win the Tour of Spain (as Kelly did), Cavendish has decided to shed weight and re-tune his formidable engine to better cope with short 'power' climbing.
It's a process that started much earlier this season and his gutsy ride in the Giro d'Italia saw him finish in Milan "ahead of the game in terms of where I needed to be. I wasn't sure how much the Giro would take out of me or how long it would take me to recover, but everything went better than we thought."
And less than four weeks after finishing the Giro, Cavendish was back at the foot of Box Hill with fellow Sky team mate Ben Swift, checking 'the numbers' on the infernal SRM Powermeter, with seven laps of the Olympic course. "I wouldn't say we learned anything about the course - because we've ridden it so often, but we learned that I'm ahead of where I wanted to be," admitted Cavendish.
Cavendish's peak power output might have been sacrificed, but his redline has been raised a few revs - which might be useful for those repetitions up Box Hill on July 28. If his tactic is successful, maybe the transformation will be permanent?
It was clear from his pre-Tour pronouncements that the green points jersey was not a goal in 2012 and that the Olympic road race, his "once in a generation opportunity" to win Olympic gold in his home country, is far more important. So important in fact, he's been prepared to sacrifice power, and therefore, potentially, lose that gift that helped make his name. But, you suspect, he's not entirely sure about the method even if he is dead-set on the gold medal.
Several times he responded to questions about his new training regime with "I dunno" or again "I'm not sure, we'll have to see if it works first." Clearly Cavendish and his coaching team are prepared to see a blunting of the 'pure' speed that has seen him win 20 stages of the Tour de France - with the sole aim of winning the Olympic Games road race.
But what if the re-configuration of Cavendish comes off? What if his new engine improves his climbing and enables him to cope with short sharp climbs better than ever before? Suddenly, a new range of race (and stage) winning possibilities opens up.
His recent GC winning ride in the Ster ZLM Toer stage race - which included the fearsome Liege-Bastogne-Liege climb of La Redoute - hinted that his climbing legs are already starting to pay dividends. Nobody is going to suggest that we'll see Cavendish as a GC rider or a winner of La Doyenne, but why not the Tour of Flanders?
We'll get a better idea of just how much of a transformation Cavendish has undergone this Sunday in the Liege suburb of Seraing. The steep climb less than two kilometres from the finish of stage one will be a useful test of his new climbing ability. Frankly, the 'new Cavendish' might be worth a punt...
Related links
Team Sky Tour de France recon photo special
Tour de France 2012: Coverage index
Thank you for reading 10 articles this month* Join now for unlimited access
Enjoy your first month for just £1 / $1 / €1
*Read 5 free articles per month without a subscription
Join now for unlimited access
Try first month for just £1 / $1 / €1