Cote de Grinton Moor: 10 Greatest Tour Cycling Climbs in Yorkshire
The road over Grinton Moor rises steeply between craggy stone walls, including a 16% gradient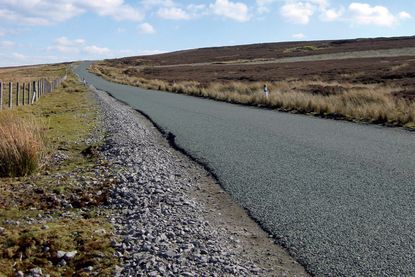 By Simon Warren
Stage one | 129km | Grinton | Rating: 7/10
There are two paths that originate in Grinton to link Swaledale with Wensleydale; one to the west over Greets Moss, and this one to the east over Grinton Moor.
Both climbs have the same origin in the centre of the village and both rise steeply between craggy stone walls before traversing what must be the steepest cattle grid I've ever come across.
It's awkward to ride one at the best of times, but when you have no chance to build up the sufficient speed to take you comfortably over the gaping bars it's nigh on impossible — you just have to commit and hope for the best.
Once over this obstacle the road eases as you reach the split, carry straight on up the mild slope which then plateaus, dips down to cross a narrow stone bridge before kicking up sharply.
This next 500 metres of 16% gradient is the toughest part of the climb and it will really sting the legs, which still have close to two kilometres of hard climbing left before the summit is reached.
Factfile
Where Leave the B6270 in Grinton in Swaledale and head south up across the cattle grid then just straight on to the top.
Grid ref SE 069 954 (OS92)
Length 4400m
Height gain 228m
Approx climb time 17mins
Thank you for reading 5 articles this month* Join now for unlimited access
Enjoy your first month for just £1 / $1 / €1
*Read 5 free articles per month without a subscription
Join now for unlimited access
Try first month for just £1 / $1 / €1