CW Exclusive: Cav's gilded cage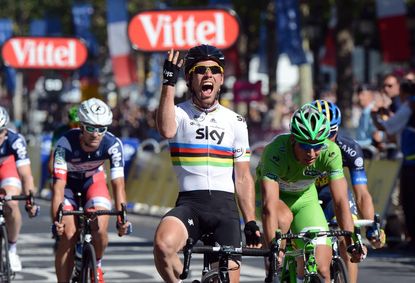 Mark Cavendish admits Sky will have to provide more opportunities should it want him to continue his prolific winning ways.
The 27 year old was proud to be part of the team that made British cycling history last week, with Bradley Wiggins winning the Tour de France and Chris Froome finishing second.
But Cavendish, despite winning three stages himself, including a record fourth consecutive win the Champs-Élysées, had mixed emotions throughout the race and a lack of helpers in sprint finishes contributed to transfer rumours that he neither confirmed nor denied.
The world champion is accustomed to having a team dedicated to his ambitions but this year he largely flew solo with Sky focused on realising its founding objective of winning the Tour with Wiggins.
"It'd be favourable," Cavendish told Cycling Weekly, referring to having more riders devoted to his Tour aims. "It depends what the team wants. If the team wants me to succeed then I need more opportunity."
Cavendish won his first stage of the 2012 Tour without a lead-out. He was forced to forgo sprint opportunities in the second week but came back with two emphatic victories in the third.
The 2011 maillot vert champion ended the 99th edition of the race on a jubilant note but said he often felt like a "spare part" and was in "no-man's land" in the immediate lead-up.
"Having a team built around stage wins, you could always be there up for the sprints. It's a lot harder when you have to be plucky, have to take your chances and you have to hope for a sprint," he said.
"We've got first and second on GC, I've done what I can for the team, but as a sprinter I've kind of just drifted through."
Cavendish's frustration was compounded because of the rainbow bands on his back and his contribution to the race, which now stands at 23 stage wins over six years.
Sky management said Cavendish knew of his position entering the Tour but the Manxman was under a different impression when he signed a three-year contract with the British-based squad: "Initially, I thought, when I signed, I'd have more helpers, and I did ask, but I can't be angry," he said. "We won the yellow jersey."
Cavendish refused to comment on team transfer rumours that surfaced at the Tour. If true, it would require Sky to either let him go or have another team organise a buy-out. Asked if his contract, negotiated meticulously by his agent, included an exit clause Cavendish said, "I don't know".
When asked if the marquee sprinter could leave the team before the end of his contract, Sky boss Dave Brailsford stated: "If he felt, or if it was felt, that he would that he would like a dedicated team around him, then he is quite within his rights to want to do that."
Cavendish was not the only rider who sacrificed personal ambition for the sake of Wiggins's, albeit well-earned, yellow jersey campaign.
Sky's team composition worked this year - with two riders on the podium and six stage victories altogether - but there is the potential for conflicting agendas in 2013. Froome has indicated he'd like more of a leadership role next, Cavendish is likely to want the support he is used to, Wiggins could embark on a title defence then there's Edvald Boasson Hagen plus the return of Geraint Thomas from the track.
"It's up to the team management," Cavendish said of future Tour selections.
The London 2012 gold medal hopeful said it was the prospect of Sky claiming the yellow jersey, and not the lure of the Olympic Games, that made his Tour sacrifices easier this season. He will have the full backing of the Great Britain national team, including Wiggins, at Saturday's Olympic road race, which he is clearly in form for.
Related links

London 2012 Olympic Games: Coverage index

Cavendish recognises advantage in missed Tour opportunities
Mark Cavendish: Rider profile
Thank you for reading 20 articles this month* Join now for unlimited access
Enjoy your first month for just £1 / $1 / €1
*Read 5 free articles per month without a subscription
Join now for unlimited access
Try first month for just £1 / $1 / €1