'It felt like us against the rest of the world': Negativity brought Team Sky closer together, says Chris Froome
Froome and Thomas brought closer together in face of adversity at Tour de France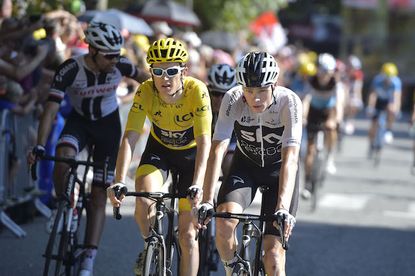 (Image credit: Yuzuru Sunada)
Chris Froome says the punches, spits and boos only brought Team Sky closer together as they successfully won the 2018 Tour de France with Geraint Thomas.
Several incidents spoiled the race this year. The constant booing from Vendée to the France's Basque Country was punctuated with incidents of spectators spitting towards the riders and others hitting Froome and Thomas, who will ride into Paris in the yellow jersey on Sunday.
"I think when there is negativity like that it brings us as a team closer together, I definitely feel that with the riders," Froome said. "We bonded and it felt as if we were out against the rest of the world and we were here to win the race. It's amazing.
"G pulled through... It's been more difficult than it was previously, and Geraint handled being in the yellow jersey extremely well. I think it's if you choose to let it get to you."
>>> 'It's just a whirlwind': Geraint Thomas still coming to terms with 'emotional' 2018 Tour de France victory
Police arrested at least one man who threw a punch at Froome on Alpe d'Huez, with others seen targetting the four-time Tour champion on the race's most famous climb.
Geraint Thomas had his problems too. On stage 17 one spectator reached out and nearly caused the Welshman to crash in the final metres of the Col de Portet.
Tension grew in the months befor ethe 2018 Tour, with controversies over the Bradley Wiggins Jiffy bag and TUEs and, since December, Froome's salbutamol case from the 2017 Vuelta a España. Froome was cleared before the start of the Tour, but those on the roadside did not seem to care.
Watch: 2018 Tour de France stage 20 highlights
Some days, signs would read "Sky go home" or "Sky dopers." Luke Rowe took things into his own hands on one day as he approached one spectator and took away his sign ahead of a stage start.
"There are always going to be haters," Thomas said. "But we work hard. We strive to be the best we can."
Thomas maintained his yellow jersey lead on the penultimate day's time trial. In Paris, he is set to become Sky's sixth Tour de France winner.
Some say Team's Sky racing style and dominance ruin cycling's show and make for boring viewing, but this dominance is of no concern to Thomas.
>>> Tom Dumoulin: 'Nobody expected me to do so well at the Tour... this is more than I'd hoped for'
"I'm quite happy with that. It's not a problem. It's been a great race," said Thomas. "Obviously we're strong. They're all amazing riders in their own."
Attention turned more towards Thomas than Froome as Thomas grew to become the team's leader. He rode in yellow without having to answer too many questions over the cleanliness of the modern peloton.
"I don't know, what can you say? I do it the right way. The team does it the right way," Thomas said. "We train super hard. There is nothing I can do to prove it but it will stand the test of time.
"There is nothing more to say. I work super hard and I've had some bad luck, but it's nice to know that it is paying off."
Thank you for reading 20 articles this month* Join now for unlimited access
Enjoy your first month for just £1 / $1 / €1
*Read 5 free articles per month without a subscription
Join now for unlimited access
Try first month for just £1 / $1 / €1