It's five years since Johnny Hoogerland's Tour de France horror crash (video)
On this day five years ago, Johnny Hoogerland was sent flying into barbed wire when Juan Antonio Flecha was clipped by a car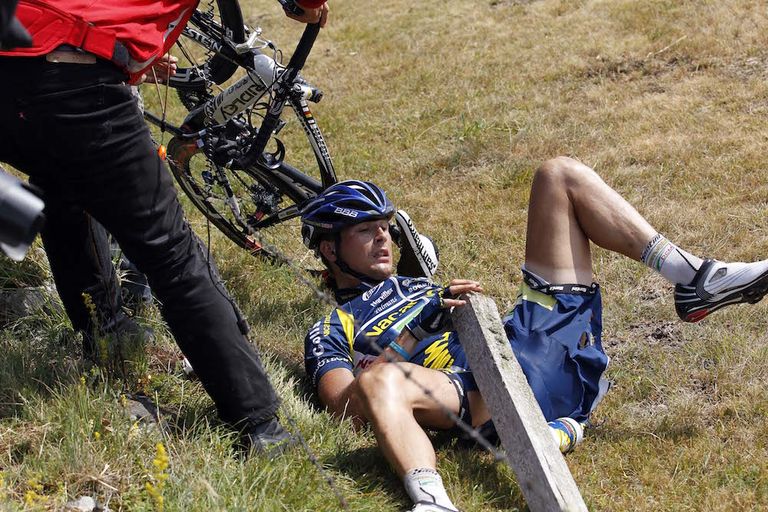 (Image credit: Yuzuru SUNADA)
July 10 is a memorable day in recent cycling history. Not only was it the date that it was revealed that Luca Paolini had failed a drugs test in 2015, but it was on July 10, 2011, that Johnny Hoogerland and Juan Antonio Flecha were involved in one of the race's most shocking incidents.
One moment Hoogerland was racing for a stage victory in the breakaway and the next he was tangled in barbed wire at the side of the road.
The Dutch rider, racing for Vaconsoleil at the time, was third in line in the five man breakaway when the rider in front of him, Flecha, was clipped by a passing car and into the path of Hoogerland.
While Flecha stayed upright, Hoogerland was sent flying through the air off the side of the road and into the barbed wire fence, where he stayed for several moments.
His lacerations were quite horrendous, riding to the finish with bandaged limbs and ripped shorts. And rather than getting his wounds properly treated at the finish line, Hoogerland had to face the public on the podium, having picked up the polka dot jersey earlier in the stage.
In 2014, Hoogerland received compensation from the TV company whose car it was that clipped Flecha. The Spanish former Team Sky rider described it as the saddest moment of his career when he retired.