Sean Yates: Back at the Tour de France
After two years out of cycling's main spotlight, Sean Yates rejoined the WorldTour with Tinkoff-Saxo this year. And he's as up for the challenge as ever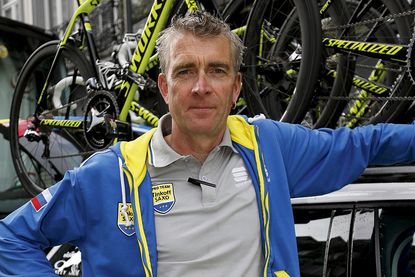 (Image credit: Yuzuru Sunada)
I once bet Sean Yates €100 that Michal Kwiatkowski would win a particular race. It was agreed publicly through Twitter and we didn't shake on it; as far as I was concerned, the real prize would be tongue-in-cheek bragging rights, since I hadn't even considered honouring the financial terms stipulated.
So, a few weeks later when a colleague approached me with €100 in hand, I was perplexed.
"It's from Sean Yates," he said, before having to further clarify. "For your bet."
I've only met Yates a handful of times, but in each encounter he's made an honest impression, speaking to-the-point and in plain terms, never PR-speak.
At his last Tour de France, in 2012, as head sports director at Team Sky, Yates was frank about the well-documented, internal team conflicts that were taking place alongside Sir Bradley Wiggins's historic victory ahead of his team-mate Chris Froome.
Yates was credited as the mastermind behind that Tour win, though he abruptly retired in October the same year, citing personal reasons. It was, as Yates acknowledged, an inopportune time for him as Sky reinforced a retrospective, zero-tolerance anti-doping policy amid the downfall of Lance Armstrong (whom Yates periodically coached).
>>> Sean Yates retires from Team Sky
The 55-year-old was happy throughout his two-year hiatus from the WorldTour, but the offer this season to reconnect with a host of influential Sky alum now at Tinkoff-Saxo was too sweet for him to turn down. Yates in his return to the Tour in July will work for the team that, with Spaniard Alberto Contador, poses the biggest threat to Sky's title tilt, led by Froome.
"You learn from life experiences, and working at Sky was one of those situations," he tells Cycle Sport. "In 2012 we rode the most efficient way, the right way to do it, in that time. I think it would be fair to say it will be a different scenario both for Tinkoff-Saxo and Sky in this year's Tour. Therefore, how we approach the race will be different.
"Sky are definitely not mugs, so there will be a certain amount of 'what are they going to do?' and vice versa. You need to have your wits about you, have your options open and think of every possible scenario. That's part of my job, along with Steven de Jongh [Tinkoff DS] and all the other DSs and coaching staff, in that we have to cover all the bases, every possible scenario that we can think of and be able to act appropriately."
May the best man win
Yates is slow to speak but sharp. At the time of our talk, he has not long been back from a "personal reconnaissance" of stage 10 of the race, from Tarbes to a mountain-top finish in La Pierre-Saint-Martin, which he believes will be crucial to the Tour's general classification.
The British legend has not embarked on the recon with an arsenal of Tinkoff-Saxo personnel, nor billionaire Russian owner Oleg Tinkov. Instead, he made the trip with Team Sky sports director and friend Nicolas Portal — which he insists is permitted.
"There's no law against having friends that I know of," Yates laughs. "He took notes and I took notes. At the end of the day, I think it would be fair to say we both want the best man to win, whether that's Alberto or Chris Froome. All's fair in love and war, don't you say?"
Yates has been on the cycling circuit since the early Eighties, first as a rider and then in a managerial position at the biggest races. He won a Tour stage in 1988 and his experience is evident, as shown in the inventory he can give of the 167km recon he did.
"I would say that after stage 10 the theme will be pretty much set and — barring someone having a bad day — it will be nip and tuck all the way from there to Paris among the guys who are still in contention," Yates says.
"Stage 10 comes after the first rest day, which comes after a transfer, the team time trial and a very stressful first eight days.
"To what extent it will be hard is yet to be seen; it depends on how the weather is, that is one factor," he continues. "It's well known after a rest day sometimes guys don't perform as they normally do. The fact that the stage is relatively flat before you hit that final climb, which is pretty damn steep, it certainly was for me; it could result in some guys taking a right packet.
"When you look at the Tour up until that point, you could already have a few guys who are out of the game, either through bad luck or being caught out in the wind, so it could be a very eventful first 10 days."
An offer too good to refuse
Yates hasn't worked closely with Contador in the lead-up to the Tour, where he is set to be second in charge to de Jongh — unlike when he was at Sky, where he called the shots from the number one car.
"You could on one hand say it's unusual but on the other hand you could say it's irrelevant, because we have got one half of the team with [Contador] non-stop," he says.
De Jongh has followed Contador closely throughout the season, whereas Yates, between the Classics and the Tour, was set to steer at just the Tour de Suisse.
"I wasn't party to my race programme, as I saw it, as a newcomer to the team. I just took what was given to me," he says. "I'm not going to say no to doing the Tour de France.
"I think I've integrated well into the team among the DS staff and I get on really well with Steve de Jongh, who is now the head DS and leading the way on our front, and obviously leading the team in the Tour."
Yates is less familiar with Contador than he was with his protégé Wiggins at Sky, where he also worked with de Jongh, Bobby Julich as well as Tinkoff's road captain Michael Rogers. All three left Sky in 2012 — de Jongh and Julich as a result of the 'no association to doping' declaration team principal Sir Dave Brailsford requested everyone sign — and so know the trade secrets of the pioneering British squad.
"I left Sky and then my options were limited," Yates says. "I guess if I'd thought in 2013 about [managing a WorldTour team again], I would have said it's never going to happen, you know, or that I didn't want it. This year is a kind of try-and-see situation, because obviously none of us are getting any younger, and I'm older than most.
"We'll see how it goes this year, whether the team want me, first and foremost, and, secondly, whether I actually want to do it for another year."
Yates dedicated time to his family, driving his two sons to cycling events, a coaching business and casual work at Continental outfit NFTO, during his hiatus from the sport's top tier.
"I had a good life in the UK doing what I was doing, so it would take a special situation [to change that], and this team situation I deemed to be good enough," he says of his return. "I had said no to a WorldTour team in 2014 because they [his children] wanted me to stay back home, but this offer came along, and I [knew] I needed to say yes."
Moving forward
The management reshuffle at Tinkoff-Saxo has been ongoing this season, with former owner Bjarne Riis leaving in March via a "mutual agreement" with the autocratic Tinkov. Yates is less forthcoming about the notable departure than, for example, issues pertaining to doping and its stigma.
"There has been some movement in the team but I think we all need to focus on moving forward and doing the best we can," he says. "I wouldn't want to comment on anything particular, only that we all have a job to do and it's our job to make things happen, move this team forward and get the best possible result for its owner, Oleg."
Such structural and roster reshuffles, which also saw triple Tour maillot vert champion Peter Sagan join the team this year for a reported €4m, may take time to develop, possibly at the expense of immediate results.
Yates directed Tinkoff-Saxo through some of the Spring Classics, where Sagan failed to produce a victory — to the public annoyance of Tinkov, for whom patience is apparently not a virtue. This contributed to what Yates declared a "rocky" start back in the driver's seat.
>>> Oleg Tinkov looking to cut Peter Sagan's salary after poor form
"We're not, with no disrespect, a mid-table team, and we need to set the goal bar high and aspire to big results because it's not like we've got a small budget," Yates says.
"The lack of results is not something that goes unnoticed by us, the press or the general public. There's always pressure to perform but the pressure increases with lack of results. It's early stages but the old saying is you're only as good as your last race.
"There's swings and roundabouts. Sky had a bad year last year and this year they're winning everything, so nothing lasts forever."
Sagan went on to win the Tour of California in May, and Contador was leading the Giro d'Italia at the time of print — results which bode well for the Tour come July.
"We are reviewing, we are trying to put procedures in place that will help us improve," Yates observes. "It's a continually ongoing thing whether you're winning or not. Dave Brailsford is never content. He's never kicked back in his armchair when the team's winning.
"You've got to be always on the go, looking at how to stay one step ahead or how to catch up — it's either one or the other," he continues. "Hopefully our time will come in the not too distant future and we'll move up the table and achieve results that are equal to our stature, if you want to call it that."
Different way of working
Yates has steered some of cycling's most defining teams of the time. He was at Discovery when Armstrong won the 2005 Tour, and again with Contador in 2007. Yates was at Astana when the Spaniard claimed another maillot jaune in 2009, and then with Wiggins at Sky in 2012. The palmarès add gravity to Yates's claim that he is returning to the WorldTour with the highest aims.
He observes a difference in culture at Tinkoff-Saxo, compared with that of Sky. "[The way] Dave [Brailsford]… runs a team is very businesslike. Any successful business has a good formula to achieve that success and to eliminate anything going wrong," Yates says.
"Dave's method, and his forte, is that he is non-stop and thinking down every channel, so I think Team Sky are, from what I can see, ahead of the game in that department and they're something to aspire to.
"It's a business model we have to catch up with. At the end of the day, if you've got the real good athlete, then you can also, from a results point of view, hold your own. But that is not sustainable because you might not always have a good athlete, so you need to push on all departments and get the good athletes, good protocols and good business model rolling and actionable."
Tinkoff-Saxo may not be there yet, but it's on its way.
Tough love
Yates, the 1992 British road national champion subscribes to Riis's 'coax rather than coach' philosophy, which has helped develop professional relationships with riders.
"Their [riders] mental approach is half the battle. You need to be physically up to the task but if your mental state is not right, then you're up against it," he says.
It's hard to imagine Yates as a vulnerable character. His direct attitude, experience and apparent perfectionism has seen him execute many ruthless pursuits for title triumph, withstand pelotons and keep even the most erratic riders in line. But he is human after all.
"Sometimes I think I'm not as good as I used to be, you know, I'm losing the plot or getting too old. It's a constant fight," he says. "I like to feel I have a good relationship with the riders. Maybe my knowledge of the course and the way I portray it to the riders... I am certainly not a brigadier as my ex-wife used to call me!
"Ultimately, I want them to do the best they can for themselves, for the team, but sometimes you have to be hard. Most of the time you want them to realise it's for the good of everybody if they do the maximum."
Yates has dedicated his life to cycling; his autobiography is aptly titled It's All About the Bike. He's seen more than can possibly be documented here or discussed in the space of our interview, especially given the sport's current state of cultural transition, with former UCI presidents under investigation, and new ideas in sports science being exploited — from cooling slushies to race motorhomes instead of hotels.
"You could say the fundamental core is always going to be the same — and that's guys riding their bikes and being ferried around the world," Yates says.
"When you talk about change in cycling, everyone immediately thinks about the doping side of things, or the fight against doping, whatever you want to call it, and all the battles that have been occurring of late with these reports and the UCI and this and that.
"You'd be stupid to say it's not changing and obviously the longer it goes on the more it will change. It will be completely good, in my opinion.
"There's no definitive solution for controlling people but I think in general it's definitely heading in the right direction and it's clear to everybody that cycling is leading the way in the fight against doping and everything that is bad in this sport.
"A lot of it has been centred on the Nineties and the early 2000s, but the truth is it's been going on for a lot longer than that... something had to be done and that's been done and it's on the right track," he continues.
How long Yates stays in the bike game remains to be seen, but his presence at the Tour this season will surely be a reassurance to his team — as well as a concern to rivals lining up at the Grand Départ in the Netherlands, where I can return his €100 in good grace.
This article originally appeared in the Summer 2015 issue of Cycle Sport magazine
Thank you for reading 10 articles this month* Join now for unlimited access
Enjoy your first month for just £1 / $1 / €1
*Read 5 free articles per month without a subscription
Join now for unlimited access
Try first month for just £1 / $1 / €1
Sophie Smith is an Australian journalist, broadcaster and author of Pain & Privilege: Inside Le Tour. She follows the WorldTour circuit, working for British, Australian and US press, and has covered 10 Tours de France.