Sean Yates retires from Team Sky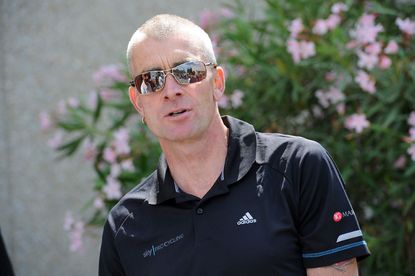 Sean Yates has retired from Team Sky in the wake of the team's internal interviews following the Lance Armstrong USADA doping case. The team confirmed his retirement on Sunday.
"Sean joined us in our first year and has been with us for three tough but rewarding seasons," Sky team principal David Brailsford said in a press release. "After a long career in professional cycling, he has told us that he wants to move on, for purely personal reasons."
The release read, "Sean has been interviewed and there were no admissions or disclosures that would have required him to leave the team." Brailsford told Cycling Weekly: "Sean retired but did not admit to doping as reported in The Telegraph."
Brailsford told Cycling Weekly that news would come regarding Dutch sports director, Steven De Jongh. If De Jongh leaves, as reported in The Telegraph on Saturday, it is the third staff member to quit in Sky's recent zero-tolerance talks. Race Coach Bobby Julich quit and admitted to doping in the 1990s on Thursday.
The talks follow the US Anti-Doping Agency's case against Armstrong. On October 10, it released its 202-page Reasoned Decision and supporting testimonies on its website shortly after sending a 1000-page version to the Union Cycliste International (UCI). In its case, the agency gathered testimony from 11 former team-mates of Armstrong, who all told of and admitted to doping in their earlier years. Canadian Michael Barry, who raced with Sky until he retired in September, said he used EPO and other drugs
"We signed Michael from HTC which was at the time highly regarded as being a very sound, clean team and during his time at Team Sky we have had absolutely no cause for concern whatsoever," Brailsford told BBC Five Live. "But ultimately he lied and we set out with a zero tolerance policy so we said that anyone who has had a doping conviction from the past or proved to have been involved on doping hasn't got a place on Team Sky - that is our policy.
Yates rode with Armstrong in team Motorola from 1992 to 1996 and helped direct the Discovery Channel team when Armstrong won the Tour in 2005 and the Astana team when Armstrong placed third. The agency used photos of him in its evidence to identify 'Motoman.' It said in its Reasoned Decision that Armstrong doped through 2011, but Yates said he had no idea. Yates told BBC Radio two weeks ago: "I worked with Lance but never had any inclination that this type of practice was going on."
De Jongh did not figure in the agency's report. After retiring as a professional cyclist in 2009, he joined team Sky when it began in 2010 with Yates. In his early years, the Dutchman raced with team TVM, which folded after suffering from doping scandals
The UCI responded to the Reasoned Decision last Monday by stripping Armstrong of his seven Tour de France titles. On Friday, it confirmed it would help form an independent commission to examine corruption allegations.
"You can see how the sport got lost in itself and got more and more extreme because it seemed to be systematic and everybody seemed to be doing it at the time - it completely and utterly lost its way and I think it lost its moral compass," Brailsford told BBC Five Live of the agency's Reasoned Decision. "Everybody has recalibrated and several teams like ourselves are hell-bent on doing it the right way and doing it clean."
Yates and De Jongh were unavailable when contacted by Cycling Weekly for this article.
"I have suffered with my health in recent years and have spent a lot of time away from my home so I feel the time is right to focus on myself and my family," Yates said in a statement later in the evening, according to The Telegraph.
"I realise the timing of my retirement will lead to speculation given what is going on in the sport but I can walk away knowing I have done nothing wrong."
Related links
Bobby Julich leaves Team Sky after confessing to past doping
UCI allows for independent investigation and suspends libel case
LeMond calls for McQuaid to resign as UCI remain under fire
Armstrong's problems have only just begun
Prudhomme asks Armstrong to pay back prize money from Tour wins
UCI accepts USADA ruling and strips Armstrong of Tour de France titles
McQuaid defends UCI over claims of corruption and ineptitude
Thank you for reading 20 articles this month* Join now for unlimited access
Enjoy your first month for just £1 / $1 / €1
*Read 5 free articles per month without a subscription
Join now for unlimited access
Try first month for just £1 / $1 / €1