Tejay van Garderen confident he can be a Tour de France contender
"I haven't really spoken with Cadel. He's been busy with his own programme racing the Giro." - Tejay van Garderen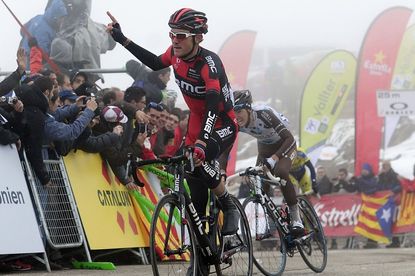 (Image credit: Watson)
Tejay van Garderen doesn't have overly fond memories of last year's Tour de France but stands to benefit from wholesale internal changes that a lacklustre team performance there provoked.
The American is set to essentially succeed 2011 champion Cadel Evans as BMC leader at the Tour next month and will approach the Criterium du Dauphine, which starts Sunday, as a dress rehearsal. Van Garderen has had a mixed season but is confident he can perform at the Dauphine and as a Tour de France contender in July.
BMC has employed and adhered to a much more structured, no-nonsense approach to performance since the 100th Tour that served as a catalyst for change.
"We hit rock bottom in the Tour last year and had to climb out of that," sporting manager Allan Peiper said.
"We went to the Tour de France and it was a fiasco – Cadel wasn't where he should have been, Tejay lost time for whatever reason and the team time trial was a disaster. We lost a wheel somewhere and we needed to have a real hard think about what we were doing."
Van Garderen's succession was in the pipeline long before the 2013 Tour. Leadership there will still be a milestone undertaking though one he seems up for as BMC strives for an improved outcome.
The 25-year-old, through illness and injury, has raced less than previous years in the lead-up to both the Dauphine and Tour but is confident in his ability to perform off the back of training. Van Garderen withdrew via injury from April's Tour of Romandie and has trained and embarked on Tour course reconnaissance since.
"I train well and I can simulate racing pretty well in training," he said.
"I'm not going to go to the Dauphine with expectations to just win it easily or anything like that, especially considering the competition. We want to treat it as a dress rehearsal for the Tour de France. I'll definitely be going for as high a GC place as possible and try to test my limits and the team."
The inclusion of Evans in van Garderen's Tour arsenal is unclear though doubtful given the Australian's standing and maglia rosa assault at the Giro d'Italia where he finished eighth overall following an early stint in pink. So far BMC has avoided headship controversy akin to that of Bradley Wiggins and Chris Froome at Sky.
Van Garderen said he may call on Evans for leadership tips in the run to the Yorkshire Grand Depart where he is sure to be surrounded by a promising squad ready to test the likes of defending champion Froome and in-form antagonist Alberto Contador (Tinkoff-Saxo).
"I haven't really spoken with Cadel. He's been busy with his own programme racing the Giro and now that it has finished I think he's pretty keen to take a little rest," he said. "Maybe as the Tour approaches and we get closer I might reach out to him for a little advice.
"I'm definitely confident in my ability to be a Tour de France contender," he continued.
"Last year things just started falling apart. I didn't have any trouble all season, I was always on the podium at every race I did and then all of a sudden everything unraveled at the Tour and it was the worst time to have that happen … But you've got to put that behind you and move forward and use it as motivation.
"The complete [Tour] team hasn't been named yet but barring injury or illness there's a few guys I'm pretty sure will be there. The guys on the classics side being Micky Schär, Greg Van Avermaet and Marcus Burghardt will be key players for the flat stages, and even Micky Schär for some of the mountain stages. That guy can kind of do it all.
"As far as the mountain climbers go we're still in the process of picking the team and probably a lot more will be known after the Dauphine, but certainly Peter Velits is a key guy for the mountains."
Twitter: @SophieSmith86
Read more in the June 12 edition of Cycling Weekly
Thank you for reading 20 articles this month* Join now for unlimited access
Enjoy your first month for just £1 / $1 / €1
*Read 5 free articles per month without a subscription
Join now for unlimited access
Try first month for just £1 / $1 / €1