This is what you have to eat to compete in the Tour de France
Three weeks, 21 stages, 3,351km, 176 cyclists and a combined burn of 25 million calories — so what exactly goes into fuelling the riders of the Tour de France? | Words by Laura Tilt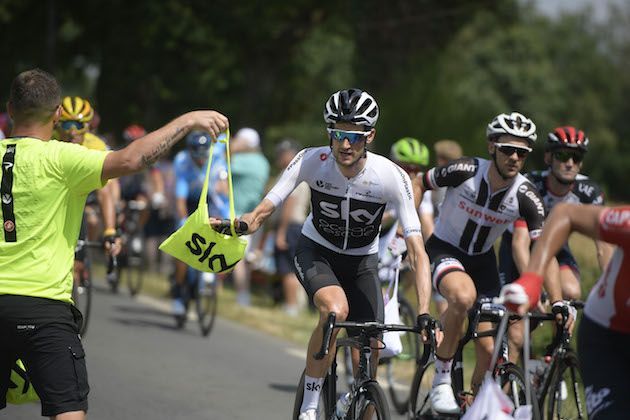 (Image credit: Yuzuru Sunada)
The amount of food needed is close to the body's maximum capacity for digestion, so failure to keep up with the enormous calorie intake can spell disaster, because playing catch-up is near impossible. And ending up in calorie deficit is a no-no because riders risk losing precious muscle.
>>> Prevent muscle pain with good cycling nutrition
Hydration starts at breakfast when riders drink fresh fruit or vegetable juice. Taking on fluids then becomes an all-day task whether the riders are on their bikes or not.
Many transportable carb-based products such as PowerBar's C2Max contain multiple forms of sugars (glucose plus fructose) which help riders absorb and use more carbohydrate per hour than conventional nutrition products, maximising delivery to the working muscles.
The calories
Diet of a Tour rider
10:30 Pre-race snack
The most important nutritional consideration for riders is getting enough calories to meet the extreme demands of the race.  This can be anything from 5,000 calories a day on a flat stage to 7,000 calories on a hilly stage.
During the longest stages, carbohydrate intake can jump to 80 or 90g per hour — but the key is to start early. "If riders don't fuel and drink properly, they will not be in contention when it comes to the critical part and finale of a stage," says Pete Slater, co-founder of OTE Sports.
Recovery involves three parts: carbohydrate, protein and fluid. A cyclist's body needs carbohydrates to replenish depleted glycogen stores, high-quality protein for repairing the damaged muscle tissue and fluid plus electrolytes for effective rehydration.
"Gastro-intestinal problems can also occur, especially during the latter part of the race, and sports nutrition products and food must therefore be selected carefully and tailored to the individual rider."
"It helps lower the perception of effort," says Barraclough, "so it can be useful on a long hilly day."
The prep
"They have to resist the enticing pastries from the hotel breakfast bar because this type of food isn't fully digested in time for the start, making riders' stomachs feel uncomfortably heavy."
Transfers from hotels to stage starts can be long, offering an opportunity to top up carbohydrate and calories — typically, rice cakes with honey, raisin bread or a sports bar are consumed with fluid. Studies show Tour riders are consuming less on the bike (possibly due to more aggressive racing), meaning greater reliance on pre- and post-race nutrition.
Different stages at the Tour require different fuelling strategies, according to duration, intensity and temperature. Fat metabolism can be utilised during mid-stage low intensity periods when a rider can shelter in the bunch and get towed along. In contrast, tougher stages will see the body rely on carbohydrate, which means more gels and bars.
Carbohydrate-rich snacks like small cakes, fruit, nuts and cereal ensure glycogen levels are constantly being topped up after dinner. Hydration is also an ongoing struggle and it's rare to see a rider without a bidon in their hand.
Overall winner in 2014 Vincenzo Nibali may have joked about his pre-Tour weight loss struggle, but both the Italian rider and his team doctor openly credited his success to attaining his optimal race weight of 64 kilograms.
>>> How to fuel for long distance rides
"There's also a small sandwich and/or rice cake to keep the hunger pangs at bay, and to help with variety and texture on long stages," she continues.
>>> Shopping tips for the best cycling nutrition (video)
"Trek Factory Racing no longer give their riders cola at the finish, knowing it doesn't contain the carbs and protein needed immediately afterwards," says Barraclough. "Instead they have a recovery drink ready to go from their soigneurs."
On big alpine climbs SiS expects its riders to consume six electrolyte drinks, three energy bars, two isotonic gels and a caffeine gel; more if the heat ramps up.
After each stage recovery takes precedence, with the priority on replenishing glycogen stores and helping muscles recover as quickly as possible.
Couple this with eating on the bike, ensuring adequate hydration and recovery, moving between hotels and the sheer length of the Tour and you've got a mammoth task on your hands. So how exactly is it done?
17:00 Post-race recovery
20:00 Evening meal
Nutrition groundwork starts months before the race in the pursuit of leanness — when you're competing at the top, even small changes to body weight count.
Guzzling around 6,000 calories a day might sound blissful, but the reality of consuming such huge quantities of food day in, day out for three weeks presents one of the biggest challenges for the riders.
"Carbohydrate is needed for high-intensity efforts, such as breakaways and tough climbs," explains Barraclough.
Isotonic gels' concentration of particles mimic that of blood plasma, increasing the rate of transportation to the muscle. "Our gels deliver energy twice as fast as other gels," claims Barraclough.
Solid foods consumed on the bike include small rolls with jam, rice cakes and energy bars. Quick-to-consume gels — especially caffeinated ones — will provide the majority of calories as the pace increases as riders will struggle to chew and swallow solids.
From morning muesli to a sundown shake, here's what a Tour de France rider can expect to eat each day on the race.
12:00 During the race
23:00 Lights out
>>> Top 10 nutrition tips for peak performance
Food consumed off the bike is just as important. Most teams travel with their own nutritionist and chef, a practice that has helped improve the quality of food and prevents one of the biggest blights of the high calorie regime — food fatigue. The chef and nutritionist work together to plan menus, taking into account rider preferences, with some requiring gluten or lactose-free meals.
Most teams drum into their riders the importance of the nutritional 20-minute 'golden window', which starts as soon as exercise stops.
>>> Tour de France 2018 start list
"One thing all riders avoid is eating heavy food," says Judith Haudum, sports nutritionist to the BMC Racing team.
As soon as the stage ends, recovery begins. "Recovery drinks with carbohydrate and 25g of protein are waiting for the riders as soon as they finish a stage, which they drink whilst cooling down," says Slater. Depending on how long the transfer is, riders shower and change in the bus before eating a snack prepared by the team chef — sandwiches, rich cakes and cereal bars are standard fare.
Food logistics
"The sodium content in an electrolyte drink is crucial in helping the riders keep fluid balance in their body. Up to a litre an hour can be lost in the heat at altitude in the mountains," explains Barraclough.
>>> How to make your own recovery and energy drinks
>>> Results are in: drink coffee, ride faster
Riders have their breakfast around three hours before the race — carbohydrate-rich foods like bread, muesli, cereal, fruit, coffee, smoothies, orange juice and even noodles help top up glycogen stores.
Post-massage evening meals start with salad, soup or juice for a nutrient boost, followed by meat or fish and carbohydrate-rich foods — but gone are the days of overcooked pasta. At the 2014 Tour de France, Garmin's chef Sean Fowler tweeted photos of flaxseed crusted turkey and pumpkin soup, while Team Sky's Søren Kristiansen served up halibut with apple, peach and fennel salsa. The aim is to use colourful foods to encourage riders to eat and keep them nourished while avoiding food repetition. Homemade cakes, yoghurt, fruit and flans are often served for dessert.
This kind of story isn't uncommon as riders constantly monitor their diet in a bid to reach their optimal weight, where they are as light as possible without losing power through reduced muscle mass.
But it's not just the calories. "Suppression of appetite and meal fatigue due to eating the same food every day for weeks must also be managed," adds Mäder.
"Nutrient-dense foods are needed to remove the bulk of large volumes of food, to make it easier for riders to maintain energy balance and get enough nutrients," says Mäder.
Because the body relies on glucose for energy during hard exercise, a high proportion of the calories consumed by riders come from carbohydrate — around 70 per cent, or 1,100g a day for a 70kg rider, according to Emma Barraclough, senior sports nutritionist at SiS.
Recovery
Nitrates relax blood vessels, improving blood flow, which can translate to improvement in performance. "Nitrate gels are often taken at breakfast time to help riders lower the oxygen cost of their efforts," reports Barraclough.
Described as one of the most gruelling endurance events on earth, the Tour de France is as nutritionally challenging as it is physical. With riders spending up to six hours a day on the bike with minimal time for recovery and just two rest days over the entire event, feeding the world's greatest riders during a Grand Tour is no mean feat.
Hydration
As well as achieving peak body composition, riders must train their digestive system to consume the large quantities of sugary gels, bars and drinks they will need every day. Similar rules apply for hydration — sweat losses are measured during training to calculate the volumes of fluid required, allowing drinking strategies to be established.
So bulky salads and vegetables are swapped for fresh fruit and vegetable juices, and carbohydrate powders are stirred into food and drink to increase calories.
Riders drinking cans of cola is a familiar sight, but due to the importance of both protein and carbohydrate during recovery, a shake is a more likely option for pro riders.
"To fuel the journey riders need to consume an average of 5,000-plus calories per stage. Maintaining such a huge energy intake is challenging," says Corinne Mäder, senior sports nutritionist at PowerBar, official sports nutrition partners of the Tour de France for over a decade.
Food consumed during the race needs to be portable and easy to consume on the bike. Riders start with food and gels in their jerseys, picking up additional supplies from musettes, packed by soigneurs at the start of each day.
Bars and sandwiches are kept for the flat stages, with gels and drinks used on climbs as it's more difficult to take on food then. Bottles with a sports drink and three gels taped on are picked up from team cars, with sandwiches and gels available from support teams on the side of the road.
Multi-day racing batters immune function, but probiotics can bolster the body's defenses. "Probiotic drinks are also used to aid immune function, as the rider's body will naturally be under a lot of stress," explains Slater.
>>> Tour de France 2018 route and essential guide
"Riders start taking drink, food and gels on board as soon as they get going."
Avoiding dehydration is another challenge — sweat losses can be in excess of three litres during hard stages, and riders may need to consume up to 10 litres a day to maintain fluid balance.
Caffeine is one of the only legal performance-boosting aids available, and riders will take a caffeine gel before the start of the race.
Swallowed in bars, gels and stirred into drinks, riders consume around 250 calories or 60g of carbohydrate per hour. "Riders take in energy little and often — 36g of carbohydrate from their drink every hour with a gel or bar every 30 minutes as well," says Barraclough.
>>> Never switch off: The art of staying in overall contention in the Tour's first week
The carbs
"A typical musette bag may contain two 500ml bottles of electrolyte drink for hydration and fuel, an energy bar to eat when the pace is less intense, and isotonic gels with caffeine for that extra lift when needed," says Barraclough.
According to Team Sky's chef Søren Kristiansen, the team's main dishes are always served with two gluten-free sides.
Judith Haudum, sports nutritionist to the BMC Racing Team says: "If riders can't find something they like then they don't eat enough."
>>> Hot weather cycling: five tips to help you keep your cool
Watch: Tour de France 2018 preview

As training techniques and bike design advance, so do the nutritional products that support the riders. "Research findings are translated into practical application — not just the ingredients but also factors such as mouth feel, taste, packaging and application — for example, how easy a product is to open and consume during a ride," says Mäder.
Fluid is lost through sweat and breath, and losses are exacerbated in the heat. But it's not just fluid — electrolytes such as sodium and potassium also need to be replaced to avoid the risk of hyponatremia, or low sodium levels, a potentially fatal condition that can be caused by overdrinking plain water.
09:00 Breakfast