Twitter gives its assessment of the grid start to Tour de France stage 17
And it wasn't overly positive...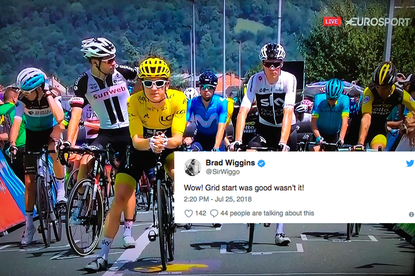 In case you missed it, the super-short but super mountainous stage 17 of the Tour de France began with a new and innovative Formula One style grid start today, before riders went straight uphill on the Col de Peyresourde.
>>> LIVE: Tour de France 2018 stage 17 – short & brutal mountain stage through the Pyrenees
You can read the ins and outs of how it all worked here if you want, but you've probably realised by now that it didn't quite have the impact perhaps the race organisers were hoping.
Nevertheless, Twitter users from around the world of cycling were quick to make their assessment of the experiment, and to be honest, it wasn't overwhelmingly positive.
Here you can relive the sensation of the Tour de France's first ever grid start:
Think this means it won't make the podcast:
Primož Roglič looking the most ready out of this bunch...
Let's go for the third one.
Some just kept it simple.
Luis possibly relieved and sad at the same time he didn't get to experience the grid.
At least the safety car didn't have to come out.
Pray for Arnaud, dropped before he'd probably even crossed the start line.
But let's look on the bright side...
You can't argue with that.
Thank you for reading 20 articles this month* Join now for unlimited access
Enjoy your first month for just £1 / $1 / €1
*Read 5 free articles per month without a subscription
Join now for unlimited access
Try first month for just £1 / $1 / €1