Winning by numbers: How Thibaut Pinot made the podium of the Tour de France
Training to win has never been more scientific. Here we look at winning by numbers, and how one young rider became a podium finisher at the Tour de France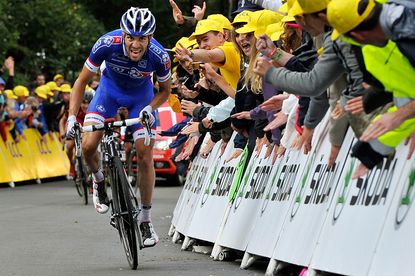 Every pro measures their optimum power output, heart rate and a host of physiological data. Mostly they keep the figures secret so rivals can't tell their strengths and weaknesses.
Thibaut Pinot, the FDJ team leader, has risen swiftly from being a promising junior to standing on the podium of the Tour de France (opens in new tab) in seven short years. His performance in every single race and training session has been measured, and he's revealed all so every ambitious youngster can learn from his data.
Remarkably, the figures have just been published because his coach and brother, Julien Pinot, and the FDJ director, Fred Grappe, want others to see how it's done.
So, here's how to go from wannabe to yellow jersey challenger.
Starting in the year you turn 18, race and train for 515 hours, over 14,733 km (9,155 miles).
Step it up each birthday so that, aged 23, you're on the bike for 942 hours, and covering twice the distance - 29,383 km (18,258 miles), much of it on tougher roads than before.
You should make your biggest improvements in the first few years. Pinot got stronger by about 20% each year before turning 21. Then gains will be more elusive, averaging just 10% a year - but you'll still be getting better.
It's not all pain. You may have to indulge in your favourite foods, within moderation, to reach your optimal racing weight. Analysis showed that France's hottest prospect, at 62kg, was too light to be able to perform at his best so he had to add 3kg to his 1.8m frame.
Like Pinot, you won't be measuring your unstoppable progress simply by hours, kilometres or race results. The conventional way is to measure your maximum oxygen consumption - known as VO2max. The higher the number, the fitter you are.
It's quantified in the lab. Put simply, you pedal an ergometer (a wired, hi-tec exercise bike) while its resistance is increased until you collapse. The breathing mask you have to wear allows your oxygen consumption to be calculated.
Stay on the programme and your maximum oxygen consumption could be as high as Pinot's - 85 millilitres per minute for every kilogram of body weight (85mL/min/kg) . How good is that?
Well, the VO2max of his coach is 79mL/min/kg. That 6mL/min/kg may seem small but it's the difference between a fit human and a superfit world class cyclist.
But Pinot's coach believes the key is not VO2max alone - your power output is the real biz and you should put a power meter on your road bike for every training session and competitve race. Pinot did so for six years, for 2208 sessions in all - 1727 workouts and 481 races, including 68 time trials.
The numbers show his workouts got harder by 62% in that time and yet his power output rose - by more than 10% at almost every intensity, over every duration from a finish line sprint up to a Grand Tour stage of four hours.
For a five second sprint as a junior his power output was 17.3 Watts per kilo of body weight (W/kg). In 2012 as a pro the training focused on sprinting and output peaked at 19 W/kg.
When you're almost at the limit, perhaps climbing Alpe d'Huez, and Pinot attacks you, you'll need to match his power, which has risen over six years from 9.6 W/kg to 10.5 W/kg for that crucial 60 seconds.
Your chances of stopping him in an "average" break away have also diminished. For a serious move lasting 10 minutes his power is now 6.9 W/kg, up from 6 W/kg in 2008.
And when you're in his team on a typical flat stage of the Tour, bear in mind that since Pinot turned pro, his power output over four hours has rocketed from 4.3 W/kg to 5 W/kg.
How can you achieve a similar improvement? Sadly the study doesn't detail the training regime and, anyway, that should be tailored to your own stengths and weaknesses because everybody is different. For example, approximately half of your VO2max potential is down to the genes you've inherited from your parents (so that's another thing to thank them for).
But two secrets have been spilled by the researchers. First, they say Pinot regularly focuses his training on heavy exercise, for up to an hour at a time. Secondly, he frequently endures severely intense exercise in sessions lasting up to 20 minutes - mostly on climbs.
All world tour squads will be doing this kind of analysis but nobody has ever published the data and analysis of a top contender in such detail. His coach, Julien Pinot, says they've published his brother's data because they want to show how effective their training processes can be.
"Moreover, the publication of his record power profile allows us to be transparent about the level of his physical potential," says Julien Pinot, with an eye on the future.
Now, knowing the numbers you need to match, you, too, can determine your own successful future. Allez!
You can read more here: "A six-year monitoring case study of a top-10 cycling Grand Tour finisher (opens in new tab)" by Julien Pinot and Frederic Grappe is published in the Journal of Sports Sciences
Astana trainer Paolo Slongo talks to Cycling Weekly about Vincenzo Nibali's power output during Tour de France stage five
Thank you for reading 10 articles this month* Join now for unlimited access
Enjoy your first month for just £1 / $1 / €1
*Read 5 free articles per month without a subscription
Join now for unlimited access
Try first month for just £1 / $1 / €1