Cleaning truck deployed on Paris-Roubaix route to remove mud from cobbles
'Mud still present on the route', says Les Amis de Paris-Roubaix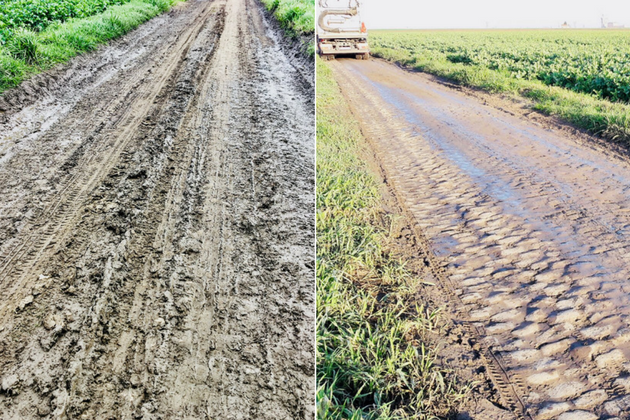 A large truck has been used to clean mud off some of the Paris-Roubaix cobbles amid concerns about rider safety in Sunday's race.
The cleaning truck was deployed in the Haveluy sector of cobbles, which is rated as a four-star sector by race organisers and will be hit by the riders just prior to the 100km to go mark on Sunday, but parts of which were covered in mud as riders took a look at the course on Wednesday and Thursday.
>>> Paris-Roubaix 2018 cobbles: Your complete guide to the Hell of the North pavé
Les Amis de Paris-Roubaix, a volunteer organisation which takes responsibility for maintaining the sections of pavé that are central to the race's character, defended the decision to clean some of the mud off the cobbles saying that rider safety had to be the top priority.
The organisation also replied to one critic on Twitter to say: "Several motorcycles fell yesterday [Thursday], imagine the danger if even the vehicles have trouble! You're going to be the first to criticise if a motorcycle brings down a rider because of the mud on Sunday."
Despite the truck being called in to clean some of the mud off the Haveluy sector of cobbles, Les Amis still assured fans that there was plenty of mud still present on the route after a few days of heavy rain in north-eastern France.
>>> Five things to look out for at Paris-Roubaix 2018
Various photos of the infamous Trouée de l'Arenberg sector, which will be covered after the Haveluy sector with just under 100km to go, show the brutal cobbles looking wet and slick, with mud in between the stones and at the side of the road.
However it seems that the wet weather has had more of an affect on cobbles early in the route, with later sectors such as Mons-en-Pévèle and the Carrefour de l'Arbre appearing mainly dry, albeit with some puddles remaining in the gutter.