Double Olympic silver medallist Becky James retires from cycling to concentrate on cake-making business
James retires after ten years on the British team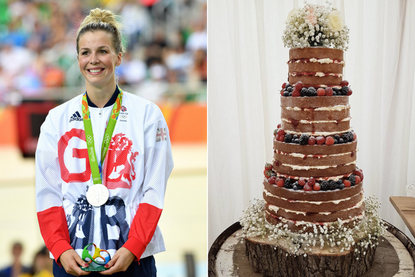 (Image credit: Watson)
Double world champion and two-time Olympic silver medallist Becky James has announced that she is retiring from cycling at the age of 25 to concentrate on establishing her cake-making business.
Announcing her retirement, James said that she was "looking forward to starting a new chapter", thanking all those who had helped her through her career.
"I have given cycling 100% and know how much commitment it takes to make it to the highest level in elite sport. The pressure of competing at the top can be mentally and physically draining, but the rewards have been incredible and I have absolutely no regrets!" James said in a statement.
>>> Becky James and her fightback to fitness
"I have achieved my dreams of becoming a world champion, a Commonwealth medallist for Wales and becoming a double Olympic silver medallist.
"I now want to enjoy my life without the strict training regime, while at the same time continuing to lead a healthy lifestyle both in body and mind."
After winning a bronze and a silver at the 2010 Commonwealth Games, James won gold medals in the sprint and the keirin events at the World Championships in 2013.
However she then endured a long-time out of action, first with a cancer scare, then with shoulder and knee injuries, missing nearly two years of international competition.
Despite this, she completed a successful comeback to win silver medals in the sprint and keirin at the 2016 Rio Olympics.
Great Britain head coach Ian Dyer was one of those to pay tribute to James, picking out her 2016 results as one of the high-points of his career.
"It's been an absolute pleasure working with Becky over the years, both in my current role as head coach and my previous role as sprint coach during which I worked closely with Becky," Dyer said.
"To see first-hand how she battled back from injury and illness to claim the silver medal in the sprint and keirin in Rio 2016 was inspiring to see and I count it as one of my career highlights.
"As one of Britain's most successful female track sprinters, Becky can enjoy her retirement and the team at British Cycling are ready to support her transition as she embarks on new exciting ventures. Becky will always be welcome at British Cycling."
James will now concentrate on building a business, Baked by Becks, out of her baking hobby.
"For a long time I've had a passion for baking and have loved making special wedding and birthday cakes for friends and family," James continued.
"I've had great feedback from those who've enjoyed my cakes or seen my Instagram @bakedbybecks and it's my intention to now pursue this passion as a business, along with some exciting other projects going forward."
Thank you for reading 20 articles this month* Join now for unlimited access
Enjoy your first month for just £1 / $1 / €1
*Read 5 free articles per month without a subscription
Join now for unlimited access
Try first month for just £1 / $1 / €1