UAE rider abandons Paris-Roubaix; gets stopped on motorway by police after getting lost riding to finish
At least Andrea Guardini got to see the end of the race in the local police station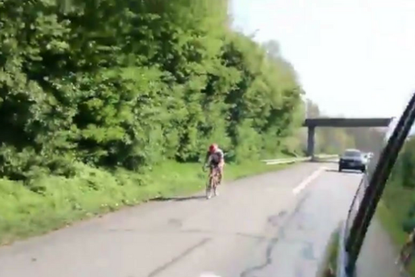 Of all the scenarios that Andrea Guardini envisaged at the end of Paris-Roubaix, he probably didn't expect to be watching the finale of the race from inside a police station after getting picked up by police for riding on a motorway.
The UAE Team Emirates rider decided to abandon the race at the second feed zone with 68km remaining, but was told by a soigneur that they wouldn't be leaving in the team car for another 40 minutes.
>>> Five things we learned from Paris-Roubaix 2017
Deciding that it would be quicker to ride to the finish himself, the Italian rider then set off on the most direct route, which unfortunately included the A23 motorway.
https://www.facebook.com/andreaflashguardini/posts/1866210070313588
Guardini was then filmed riding along the road by a passing fan, before being stopped by French police.
Thankfully the police were lenient on Guardini, just giving him a ticking off, before loading his bike into the back of the van and helping him out with a lift to a police station in Villeneuve-d'Ascq, where he was even able to watch the end of the race!
>>> Pros upload their rides to Strava after fastest ever Paris-Roubaix
A few phone calls later, and Guardini was back in touch with his team, with a soigneur dispatched to the police station to pick him up.
As thanks for helping him out (and presumably also for not arresting him) Guardini gave his dusty race jersey to the police.
Thank you for reading 20 articles this month* Join now for unlimited access
Enjoy your first month for just £1 / $1 / €1
*Read 5 free articles per month without a subscription
Join now for unlimited access
Try first month for just £1 / $1 / €1