UCI commissaire explains why Paris-Roubaix wasn't stopped after Michael Goolaerts incident
After comments that Paris-Roubaix should have been stopped after Michael Goolaerts suffered a cardiac arrest, UCI commissaire Philippe Mariën explains that it is not simple to halt big races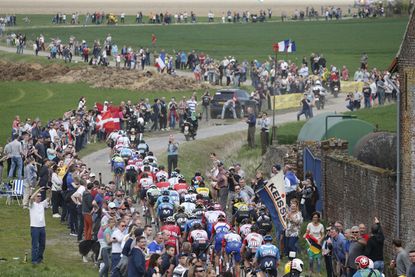 (Image credit: Yuzuru Sunada)
Experienced Union Cycliste Internationale (UCI) commissaire Philippe Mariën has said that it would have been almost impossible to stop Paris-Roubaix after Michael Goolaerts suffered a cardiac arrest during the race on Sunday.
Mariën told Belgian newspaper Het Nieuwsblad that "stopping the race as you can stop a football match with one whistle is not that simple".
Some people had criticised the race's organisers for not stopping the event after Goolaerts fell during the Briastre cobble sector. He was attended to quickly by medical personnel and was subsequently air-lifted to hospital in Lille, but died that evening.
Mariën was not officiating during the race, but was watching it on the television as a spectator. However, he has been a commissaire during some of the sport's biggest races – including the Tour de France – and explained why the race continued.
"Unfortunately, there have been a lot of heavy falls in the past and will continue to be in the future," said Mariën.
"In these times, however, media such as Twitter quickly gives news or opinions, even if they are not always well founded. The criticism that the race went on, I find this rather cheap. Because everyone remained in the dark about the fate of Michael until 23:30."
"Stopping the race as you can stop a football match with one whistle is not that simple," continued the Belgian.
"It is not that you can just pull the plug from the stadium. There is a whole organisation behind it, the public roads have been shut down and thousands of spectators are on the road."
Mariën said that he found the incident hard to watch and follow at home.
"The news was immediately disturbing and frightening," he said.
"I was at home to follow the race and at that moment you question a lot, but unfortunately life goes on, and on Wednesday it is again a race with the Brabantse Pijl. How painful and bizarre that seems now."
>>> Cycling world pays tribute to Michael Goolaerts
As part of a race jury, Mariën has often had to deal with decisions during races that need to be made. He was the head commissaire on stage four of the 2017 Tour de France that saw Peter Sagan disqualified from the race after clashing with Mark Cavendish in the final sprint.
In a statement issued on Twitter, UCI president David Lappartient said: "On behalf of the Union Cycliste Internationale and the cycling family as a whole, I would like to extend my deepest condolences to the family, team and friends of Michael Goolaerts, who left us too early today. We share their immense sadness."
Thank you for reading 5 articles this month* Join now for unlimited access
Enjoy your first month for just £1 / $1 / €1
*Read 5 free articles per month without a subscription
Join now for unlimited access
Try first month for just £1 / $1 / €1