'Very beautiful', 'Awesome', or 'Dull'? Twitter reacts to Team Sky's new white kit
Generally positive reaction to Sky's bold new look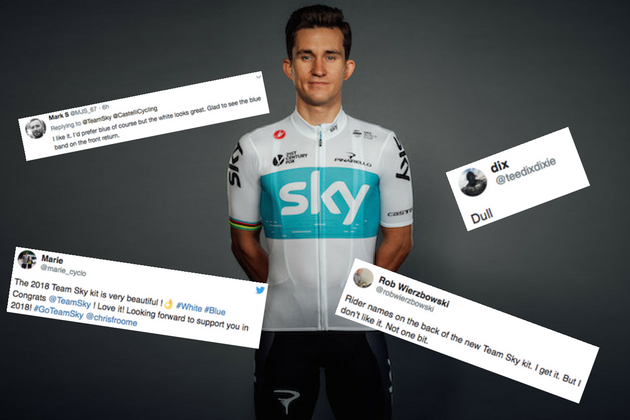 After eight seasons of black and blue kits, Team Sky have gone in a different direction for their 2018 jersey, with a completely new look for next year.
Hoping to draw on some of their success at the 2017 Tour de France, the team are going for a similar design to the special white and blue jersey that they wore to deliver Chris Froome to yellow, while bringing back the wide blue band across the front of the jersey which they had in their first season way back in 2010.
Chris Froome, Luke Rowe, Michal Kwiatkowski, and Ian Stannard were called in to model the new jersey, which, thankfully for the viewing pubic, is combined with black shorts.
>>> Chris Froome to race the Giro d'Italia in 2018, say sources
In general, the reaction of social was largely positive, with plenty of people chipping in with compliments to Castelli and Team Sky's designers over the bold new look.
The back of the jersey not only features the dashes of the "Data Pattern" (representing the team's many victories over the past eight years), but also the rider's name, something that Dean Woolnough would like to see on his own replica jersey.
However others on Twitter weren't quite so sure.
But at least it's not as bad as Chris Froome's mesh skinsuit and matching sunburn from a few years back
For those who like the kit, and are eager to get their hands on a replica, the bad news is that you'll have to wait, with it not being available for punters to buy until mid-February at the earliest.