Froome's flashbacks after he hits the deck in Spain
Memories of his Tour de France crash come back to Chris Froome when he falls in training. - Sky's leader was riding the team time trial course when he hit a patch of oil on a roundabout - Admits he hasn't done the altitude training, or the build up races, ahead of the Vuelta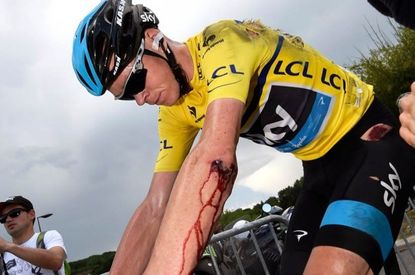 (Image credit: Graham Watson)
Chris Froome has admitted he had 'flashbacks from the Tour de France' when he crashed on Thursday while previewing the opening time trial stage of the Vuelta a España.
"The first thing that went through my mind was 'here we go again,'" Team Sky's grand tour leader said. "There were flashbacks from the Tour."
Froome was riding the 12.6-kilometre team time trial route in Jerez De La Frontera southern Spain when he fell.
The crash follows the three tumbles that forced him to abandon the Tour de France on July 9. He broke his left wrist and right hand on the cobbled stage of this year's Tour, but escaped injury this time.
"There was just a bit of oil on the road and I'm sure that whoever the first guy was heading into that roundabout would have gone down too," Froome added. "It's one of those things but I didn't get hurt. It was very slow speed. I'm fine and ready to go on Saturday."
Saturday marks the 29-year-old's first race back since leaving the Tour and gives him a chance to complete a Grand Tour before the curtains fall on the 2014 season.
Last time Chris Froome rode the Vuelta he finished second (in 2011), only beaten on time bonuses by Juan José Cobo.
"I've definitely got a lot more relaxed approach to this year's Vuelta compared to the Tour, for example. I haven't had the same lead-up that I'd normally have to a race like the Tour de France. I've not had the altitude camps or the normal racing blocks leading into a Grand Tour," said Froome.
"My main objective here is to get the Grand Tour in my legs and finish the season in good condition. That will hopefully take me through to the winter in a good way. It would be great to get a result here, especially after a disappointing Tour. But I do know how hard it is to race, especially at this level, with so many big competitors here."
Froome starts the race with eight team-mates including Brits Pete Kennaugh and Luke Rowe. Some of his team-mates he has not seen since Sky's early January camp, but after his preview he explained that they should be able to pull off a good ride.
"The team time trial is going to be a tough stage, especially with the start on the pavé and the number of roundabouts. We're one of the last teams off so we'll be able to see what we're up against and to see how other teams fare before we go off. The stage is a big objective for us and it would be a really great for us to start off with a good result in the TTT."
Thank you for reading 20 articles this month* Join now for unlimited access
Enjoy your first month for just £1 / $1 / €1
*Read 5 free articles per month without a subscription
Join now for unlimited access
Try first month for just £1 / $1 / €1